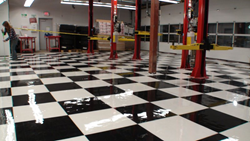 As the largest user of raw industrial resins and additives in the Midwest, we continue to expand heavily in the polymer resinous flooring sector globally. - Ken Freestone
Valparaiso, Indiana (PRWEB) June 11, 2014
Elite Crete Systems has announced record sales for the month of April, and is looking forward to continued success throughout the remainder of 2014. While two of Elite Crete Systems' product lines are chiefly responsible for the record sales, the company remains dedicated to bringing other product lines to market in answer to actual need in the commercial and industrial concrete sectors.
April 2014 was the best sales month of all time, and the remainder of the year is expected to continue following that trend. Elite Crete Systems projects sales will continue to rise, particularly on the resinous flooring products side of the business, with two product lines leading the pack. The REFLECTOR™ Enhancer Flooring System is ideal for commercial projects but is also a common choice in high end residential projects, while the HERMETIC™ Industrial Floor Coating System is ideal for manufacturing and industrial projects.
The REFLECTOR™ system is capable of creating a custom floor that offers excellent durability and lifespan, while the HERMETIC™ system is ideal for situations where durability and high performance are of paramount importance. Both are fluid applied floor coatings with zero to very low VOC and quick turnaround through fast setting capabilities. Both can also be applied to new and existing floors as well. REFLECTOR™ systems are installed in medical, educational and retail environments, while HERMETIC™ systems are used successfully in warehouses, manufacturing facilities, airplane hangars and more.
When asked about the record sales seen in April and the expectation for continued rapid growth, Director of Technical Engineering and Market Development Ken Freestone replied, "As the largest user of raw industrial resins and additives in the Midwest, we continue to expand heavily in the polymer resinous flooring sector globally. With over 100 technical support, training and specification assistance offices worldwide, no one is more suited for continued massive growth in our sector."
To find out more about Elite Crete Systems and the company's range of high-quality flooring solutions, visit http://www.EliteCrete.com.
About Elite Crete Systems: Elite Crete Systems is a worldwide developer and manufacturer of specialty, high-performance building products for a range of applications, including retail, hospitality, hotels, shopping malls, restaurants and manufacturing facilities.