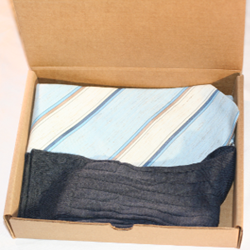 ...most men have no clue how to pick a tie...
Eagle Mountain, UT (PRWEB) June 11, 2014
Let's face it. There are few things that men dread more than shopping, especially for clothes. It's bad enough that men have to spend time going to some store, or worse, a mall, but then they have to worry about trying to decide what matches what or whether or not what they are buying looks good on them. Suits and leisure wear are bad enough, but there are two items that most men have a hard time shopping for, for two different reasons.
The first is socks. Men just don't care enough about them to spend the time thinking about how socks will look on them. The second is ties. While more importance is placed on ties than socks, most men have no clue how to pick a tie, and would happily let someone else choose their ties for them. Not every man has a wife or significant other to choose for them however, and even if they do, it still most likely means that the man will end up having to go shopping.
If men had a way to avoid setting foot in a store while being able to keep their wardrobe up to date, especially where socks and ties are concerned, they would gladly take it. That's where Sock It Tie Me comes in!
Sock It Tie Me (http://www.SockItTieMe.com) is a newly launched website for men (and the people who dress them!) that would like a new tie and pair of socks every month, but don't want to shop for them.
Sock It Tie Me offers high quality, designer ties and socks just like the kind found in upscale boutiques and major department stores, while allowing men to avoid having to set foot in a store.
For a monthly subscription, Sock It Tie Me delivers (free shipping in the US by the way!) both colored ankle socks and dress socks, paired with a fashionable tie to make the perfect set. Sock It Tie Me even picks the ties and socks, so men don't have to make that shopping decision. Because the ties and socks are chosen for members, it's like getting a surprise in the mail every month!
Sock It Tie Me offers socks that fit the standard size of 9 to 12, but in many different colors, styles, and brands. Each pair provides a designer look and feel.
These socks provide top of the line moisture, comfort and temperature management, offering high
quality performance and endurance without sacrificing style and comfort.
And the ties?
Sock It Tie Me has a variety of well-known designer and fashionable ties, with a multitude of designs that are perfect for every taste, from conservative to flashy. You could expect to pay anywhere from $30 to $120 for these ties in a store (not to mention you'd have to well, you know…set foot in a store!)
Sock It Tie Me members can choose from several options (we promise, this the only decision you have to make about socks and ties!), including monthly plans or three, six and twelve month options. You can also choose more than one plan if you'd like to give someone a membership as a gift.
SockItTieMe.com will offer members quality, fashion, and comfort, all without having to leave the
house, no matter what their budget may be. Members can even get a discount of $5 on their first month by entering the code PR5 at http://www.sockittieme.com.
###
To learn more about Sock It Tie Me, please visit http://www.sockittieme.com/