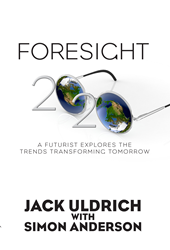 We are now in the early days of the Internet of Things, and as it matures it will astound you.
Minneapolis, MN (PRWEB) June 11, 2014
Businesses leaders and government officials are seeking to find what's possible with machine-to-machine (M2M) technology and the Internet of Things. And Verizon Wireless is offering answers in Minneapolis on June 12th with their keynote speaker, futurist Jack Uldrich.
Uldrich, who has been making the rounds traveling across the U.S. with the Connected Technology Tour, is a former naval intelligence officer and Defense Department official. He also served as the Director of the Minnesota Office of Strategic and Long Range Planning under Governor Jesse Ventura.
A renowned business trend expert and the author of eleven books, including: "The Next Big Thing is Really Small: How Nanotechnology will Change the Future of Your Business;" and his most recent book, "Foresight 20/20: A Futurist Explores The Trends of Tomorrow," Uldrich regularly speaks on leadership, change management and technology consultancy dedicated to helping business, governments, and non-profit organizations prepare for and profit from periods of profound transformation.
When it comes to M2M and the IoT, Uldrich says, "the Internet of Things isn't just about gadgets and gizmos that make life easier, it's also about tracking data, or rather 'big data,' which is all the information currently passing through the Internet. Accurate information is obviously critical to the success of anyone's business. When it comes to government affairs precision of data is equally important. In fact, the Internet of Things (also known as the Industrial Internet) has alone been estimated to be a $15 trillion business opportunity in the coming decade!"
In addition to his keynote address, "How the Internet of Things will Transform Business", Uldrich will follow up with a special session designed specifically for government officials to address their needs.
Parties interested in learning more about Jack Uldrich, his books, his daily blog or his speaking availability are encouraged to visit his website. Media wishing to know more about either the event or interviewing Jack can contact Amy Tomczyk at (651) 343.0660.
Uldrich is a renowned global futurist, best-selling author, editor of the monthly newsletter, The Exponential Executive, and host of the award-winning website, http://www.jumpthecurve.net.