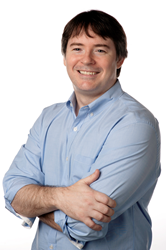 (PRWEB) June 12, 2014
Daniel McCaffrey has joined online privacy and reputation leader Reputation.com as the company's Chief Technology Officer.
McCaffrey oversaw the development and innovation of the Platform and Analytics Engineering groups for Zynga, the social gaming services provider. Under his leadership, the teams used analytics to develop tools, insights and use cases that improved the business, while also building and maintaining the core shared services that made up the platform. Dan also serves as an advisor to a variety of tech start-ups.
"Dan is a Silicon Valley engineering superstar with the expertise to drive innovation in digital privacy and online reputation management," said Michael Fertik, Reputation.com's Founder and CEO. "Reputation.com is a company that puts a premium on hard tech and we're fortunate to have Dan, an experienced and proven innovator, at the helm of our technical leadership."
As Chief Technology Officer, McCaffrey's responsibilities will include setting engineering strategy, overseeing and managing Reputation.com's engineering, research and development, quality assurance, security and site operations, and ensuring the company's technical resource needs are met.
"As the world becomes more digitally connected, consumers and enterprises will need reputation and identity management technologies," said McCaffrey. "Reputation.com is the leader in reputation management and there are exciting opportunities here to build next generation capability in identity protection and reputation analytics."
Prior to his tenure at Zynga, McCaffrey co-founded Breadboard BI, a business intelligence software and consulting company. After beginning his career in molecular biology and immunology laboratory research at University of California, San Francisco and Genentech, he moved into software engineering focused on bioinformatics systems at both Genentech and Incyte Pharmaceuticals.
About Reputation.com
Reputation.com was founded in 2006 to give individuals and businesses the power to control their digital privacy and reputation. The company continues to pioneer patented solutions that safeguard and remove personal data from the Internet, monitor and respond to online reviews, build a positive and accurate Web presence for clients, and help businesses proactively engage customers.
Reputation.com is a World Economic Forum Global Growth Company and multiple award winner, including the recent Silver for the Best in Biz Awards for "Most Customer Friendly Company" in 2012. It is funded by top-tier venture capital firms and has customers in 100 countries. Follow Reputation.com on Facebook, Twitter and LinkedIn.