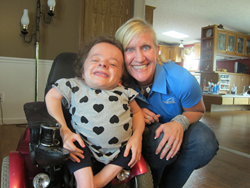 "I'm confident Crytico will help shape the future of this industry." McGivney
Sioux Fall, SD (PRWEB) June 10, 2014
Crytico, a review-based website for the mobility market, announced today announced that Monique McGivney, former Director of Corporate Communications with Vantage Mobility International (VMI), has joined Crytico to manage the company's strategic planning, new business opportunities and end user experience, as well as oversee Crytico's marketing and communications efforts across the country.
"We're very excited to hire someone of Monique's caliber and experience," said Bob Lundin, president of NetPistol, parent company of Crytico. "Monique has deep roots and passion for the mobility industry. Combined with her strong ethical business principles, we know she will be a perfect fit for Crytico, as well as a strong, vocal advocate for the mobility industry and the customers we serve."
As the Director of Corporate Communications, McGivney was responsible for the national communications efforts of VMI, including planning and executing public relations and social media programs, as well as implementing the promotional objectives of the VMI Marketing Plan. Her role also included the management of VMI dealer training, communications and outreach. McGivney's background at VMI saw her progress through a series of promotions, culminating in her management of VMI's corporate communications program.
"Crytico is an exciting business model that I believe will have a significant impact on the mobility industry," said McGivney. "I'm especially excited to work with the Crytico team on this project. They're well-known for their entrepreneurial spirit, leadership and commitment to the mobility community. I'm confident Crytico will help shape the future of this industry."
About Crytico
Crytico.com will be a comprehensive review website for the mobility industry. For the first time customers will be able to read and write reviews on the products and services that the industry provides. The pilot phase of Crytico is planned for July 2014. For more information contact Monique at Monique(at)crytico(dot)com. http://www.crytico.com