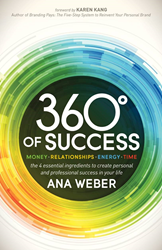 I've always taught my clients that passion converts tomorrow's illusions into today's reality, and that life is a something that they can color as their journey unfolds.
Corona Del Mar, CA (PRWEB) June 17, 2014
Corporate professionals who want to dramatically improve their level of efficiency, effectiveness and enjoyment at work and in all other aspects of their life can now get the practical guidance they need anytime and anywhere by accessing renowned Corporate Success Coach Ana Weber's new virtual online academy at http://www.AnaWeberAcademy.com.
Weber, whose passionate and powerful approach to life and business is vividly illustrated across her 17 books -- including the best-selling "The Money Flow", which was named the best business motivational book of 2013 by USA Books, and the best international business motivational book of 2014 by International Books -- decided to launch the online academy so that her growing roster of clients across the country and around the world could learn on-demand, and engage lessons and modules when it conveniently fit their often hectic, time-starved schedules.
"I've always taught my clients that passion converts tomorrow's illusions into today's reality, and that life is a something that they can color as their journey unfolds," commented Weber, who is also a certified Energy Leader Master Practitioner, a member of the National Speaker's Association, and host of the live weekly radio show "The Money Flow" which can be heard every Monday from 8:00-9:00 Pacific at http://www.healthylife.net (archives of past shows are available for download). "And now with my new online academy, I can use the power of the web to reach more people than I ever dreamed possible. It's something I've been working on for months, and I can't describe how excited I am that it's finally happening!"
The inaugural course in Weber's online academy is the much-anticipated companion to her book 360 Degrees of Success, which has been hailed as a "must-read". The course, which was developed for medium to large sized organizations, features a suite of 5 x 3-hour online modules to help corporate professionals optimize their time management, work relationships, energy, revenue, and discover how to shift hats and embrace different roles in their lives. Other course elements include email follow-up and correspondence directly with Weber, plus access to exclusive learning material.
"Unlike other courses and workshops with a limited focus, the 360 Degrees of Success course is all encompassing," added Weber. "Plus, corporate professionals will save time, money and energy, since they'll get everything they need from one source, instead of having to piece together a curriculum and coordinate several courses and workshops. They can look forward to learning how to save money, reduce stress, strengthen relationships, boost energy, achieve balance and personal liberty, and enjoy a whole new world of abundance, awareness and achievement!"
For more information or media inquiries, contact Ana Weber at (888) 416-1088 or ana(at)360degreesofsuccess(dot)com, or visit http://moneyflowmastery.com/.
About Ana Weber, CPC, MBA
Ana is a multi-book author, journalist, and relationship-energy-lifestyle coach who has worked in the financial world for more than 20 years, where she built companies from the ground up and maintained the financial health of businesses. Ana is recognized and appreciated for her generosity in the charity and celebrity world, and is involved with the The Cancer Research for children, Kindred Spirit, Children's heart disease and many others. Ana appeared on numerous TV interviews; CNN, ABC, NBC, Good day N.Y. Fox News and quoted in the various magazines/newspapers; Wall Street Journal. Woman's World, Weekend News, USA Today and appeared on numerous radio shows; ABC, John Tesh show, XM radio and many more. Her books have also been featured in gift packages at various events, including the American Music Awards, Golden Globe Awards & the Academy Awards. Learn more at http://www.moneyflowmastery.com, http://www.360degreesofsuccess.com, http://www.anaweberacademy.com, or by calling (888) 416-1088.