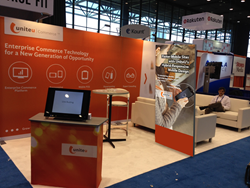 UniteU's mCommerce speed test will allow attendees to discover how their mCommerce sites compare to industry leaders in terms of load times and conversions.
Chicago, IL (PRWEB) June 10, 2014
UniteU, a leading omnichannel commerce platform provider and eCommerce integrator for retailers and brands, will be hosting the world's largest live mCommerce speed test at IRCE 2014 as part of its debut of new, shockingly-fast Hybrid Responsive™ design technology and the release of the latest features to its uMobile POS™ solution.
The mCommerce speed test will allow event attendees to discover how their mCommerce sites compare to industry leaders in terms of load times and conversions. They'll also reveal how attendees' mobile initiatives compare against competitors and industry leaders alike. IRCE 2014 attendees can participate in the speed test just by visiting booth #914 and speaking with a UniteU representative during the event.
"Retailers lose sales because of the sluggishness of their responsive mobile sites, and it's something that can easily be remedied," says Soumen Das, Founder and CEO of UniteU. Internet Retailer reports that, "A 1-second delay in website page load time translates into a 7% loss in conversions" (Siwicki, Bill; June 2014; "The Ugly Truth about Responsive Design (and how to fix it);" Internet Retailer; pgs. 42-54). The month-long study Internet Retailer conducted concluded that average page load times for responsive design sites on smartphones is very slow—18 seconds. Those slow load times ruin the customer experience and negatively impact sales.
But Das says that UniteU's retailer customers are able to deliver a much different experience to consumers. "Retailers who use UniteU's Hybrid Responsive™ technology deliver mobile page load speeds comparable to the Google home page." UniteU customer City Sports recently increased mCommerce conversions by 145% by replatforming to UniteU's Hybrid Responsive site solution. After evaluating the current mobile commerce vendor landscape, Internet Retailer named UniteU a "Pioneering Vendor" in the June 2014 report for its technology that vastly improves responsive page load times.
In addition to its Hybrid Responsive mCommerce platform, UniteU is featuring the latest version of uMobile POS, UniteU's mPOS solution, at IRCE 2014. uMobile POS enables omnichannel and endless aisle transactions via a tablet-based mPOS device. "Retailers love the ability to deploy mPOS that's fully integrated with their existing backend systems," says Das.
uMobile POS offers an iPad-based device that includes a barcode scanner and a card reader. But the app, and its integration into UniteU's omnichannel backend, is what really makes the solution revolutionary. uMobile POS makes it easy for retailers to process mobile transactions like those at an event, or even on the sales floor of a retail establishment, with full integration into inventory, accounting, point of sale and ERP systems. With this solution, retailers can sell merchandise that's in-stock on location along with inventory from other locations such as distribution centers and other retail stores, all in one transaction.
"For the consumer, it really changes the shopping experience," said Das. "With uMobile POS the customer can purchase items on-hand as well as sizes, colors and items that aren't in stock in-store, and have them delivered right to their home—all in one transaction."
With such robust offerings featured at IRCE 2014, UniteU is also hosting an event for IRCE 2014 attendees where they can network and learn more. This offsite event will be held at UNTITLED, Chicago's "swanky" speakeasy establishment on Wednesday, June 11th 7pm-11pm. Attendees can register at http://www.uniteu.com/Tradeshow-Event.aspx.
For more information about IRCE, visit http://www.irce.com/.
About UniteU Technologies (http://www.uniteu.com):
UniteU creates technology that allows retailers to provide unified commerce experiences across channels and devices. UniteU offers a wide range of solutions and services including Hybrid Responsive™ mobile commerce, uMobile POS™ and UniteU Commerce™, a powerful commerce platform that embodies more than a decade of omnichannel insights and high-volume experience. Superior technology and performance has resulted in an impressive client list that includes Pharmaca, Joes Jeans, Edwin Watts Golf, City Sports and the world champion Miami Heat.