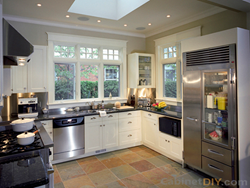 CabinetDIY Delivers Assembled Kitchen Cabinets Directly to Your Door Step
Orange, CA (PRWEB) June 13, 2014
CabinetDIY is pleased to announce that as of June 2014, they are now offering affordable and ready-to-assemble kitchen cabinets. Homeowners will now be able to give their kitchen a new look for a lot less money by choosing RTA (ready-to-assemble) kitchen cabinets.
Remodelling a kitchen can be expensive, and trying to work within your budget can be a challenge. With the launch of CabinetDIY's Assembled Delivery Service, building a new kitchen can now be stress-free.
CabinetDIY offers a wide variety of affordable RTA kitchen cabinets made from the same high quality materials as other cabinets on the market. This will allow consumers to get more bang for their buck.
CabinetDIY wants to provide a simple kitchen built for homeowners, allowing them to modernise their kitchen for a lot less by using ready-to-assemble kitchen cabinets.
The new products from CabinetDIY have been seen as a positive move, granting homeowners who are looking to build a new kitchen have an affordable option. By purchasing ready-to-assemble cabinets, building a kitchen has never been easier. The latest products, which have already been proven to be a success, come with full instructions suited for your needs.
To learn more about CabinetDIY and to see the range of kitchen cabinets that are offered on sale, please visit http://www.cabinetdiy.com.
About CabinetDIY
CabinetDIY was founded by a group of passionate interior designers and professional cabinetmakers in 2004. It is our passion to assist our customers to design and build their dream interior projects. Any customer can find the perfect cabinet style to easily suit their taste on CabinetDIY.com. Our service facilities are located throughout the United States and all of our cabinets are carefully assembled, tested and packaged by skillful workers. Our service goal is to minimize the workload after our customers receive our products.
CabinetDIY
Phone : 888-966-1681 Fax: 714-886-1638
633 W. Katella Ave., Unit I,
Orange, CA 92867