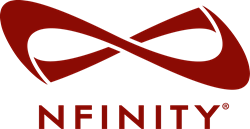 Atlanta, GA (PRWEB) June 10, 2014
Nfinity, a leader in marketing innovative shoes, apparel and accessories for the female athlete, has announced the availability of its Champions League documentary for rent or purchase on iTunes. The documentary, which was the first to feature the athleticism of cheerleading in theaters this year, took the top spot as the number one documentary on iTunes in its first week, along with debuting as the number one film in the sport genre, in the top 5 in Australia and UK and and 24th overall.
The documentary follows the journey of the country's top all-star cheerleading teams as they prepared to compete in the Nfinity Champions League Cheerleading Event, a one-night competition that took place in Atlanta, GA this year. The documentary's award-winning production team, led by industry veterans Mark Ellis, Steve Andrich and Jim Jorden, gives viewers an inside look the athleticism behind cheerleading as a sport and the fast paced, hard work, determination and dedication the teams put into preparing for competition.
"Achieving the spot of the number one documentary in our first week on iTunes, alongside so many incredible films, is a testament to the sport, the passion of the athletes and interest that people all over the world have in cheerleading," said Tate Chalk, founder and CEO of Nfinity. "As a follow up to our success on the big screen, we are excited to continue sharing our story about the sport of cheerleading and the Champions League on iTunes."
To rent or purchase The Champions League, visit: https://itunes.apple.com/us/movie/nfinity-champions-league-2014/id880958913.
About Nfinity Athletic
Nfinity Athletic, based in Atlanta, Georgia, is a leader in marketing innovative shoes, apparel and accessories for the female athlete. Nfinity has built a reputation as "The Official Shoe of Cheerleading" and is known for its use of technology and inventive approach to its products. Nfinity introduced the world's first high-performance cheerleading shoe for women and was ranked 9th on Inc. magazine's list of "Top 100 Consumer Product Companies." Nfinity also was named "Business Innovation of the Year by the American Business Awards and received a Silver Stevie for "Business Innovation of the Year." Visit http://www.nfinity.com for more information.