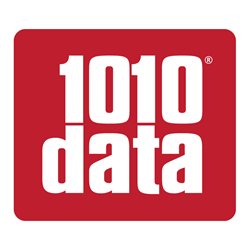 New York, New York (PRWEB) June 10, 2014
New York, NY (June 10, 2014) - 1010data, Inc., a market leader in Big Data Discovery and data sharing, today announced that it has been named to the Database Trends and Applications (DBTA) 100 2014: The Companies That Matter Most in Data, and UBM Tech Channel's second annual CRN 2014 Big Data 100. The DBTA 100 recognizes the best information management solutions when it comes to protecting, storing, enhancing, analyzing and integrating data, while CRN recognizes the best solutions in helping businesses work with Big Data.
1010data provides leading enterprise, retail and CPG companies with an all-in-one, Big Data Discovery platform with unmatched scalability, flexibility and speed. The company's recently released Version 7.0 of its platform offers major advancements to three of the key components of 1010data's platform: data visualization, in-database applications and data integration in the cloud. The updated platform increases the accessibility of data for every step of a business, allowing for the analysis and visualization of Big Data in mere seconds.
"We are thrilled to once again be recognized in both the DBTA 100 and the CRN Big Data 100, building on our position as the leading cloud-based Big Data Discovery platform," said Sandy Steier, 1010data CEO and Co-founder. "This award recognizes an extremely successful year for the company and provides confirmation of the revolutionary nature of our solution. We have continued to evolve and innovate our platform to solve major business problems for our customers and help them utilize Big Data Discovery to produce real ROI."
The full DBTA 100 report can be read here: http://www.dbta.com/Editorial/Trends-and-Applications/DBTA-100-2014---The-Companies-That-Matter-Most-in-Data-97199.aspx
The full CRN Big Data 100 report can be read here: http://www.crn.com/slide-shows/applications-os/300072862/big-data-100-business-analytics.htm
About 1010data:
1010data provides a unique, cloud-based platform for Big Data Discovery and data sharing. It is used by hundreds of the world's largest retail, manufacturing, telecom, and financial services enterprises because of its proven ability to deliver actionable insight from very large amounts of data more quickly, easily and inexpensively than any other solution. Please visit http://www.1010data.com for more information.
###
Media Contact:
Zachary Vito
Grayling
415-442-4385
zachary(dot)vito(at)grayling(dot)com