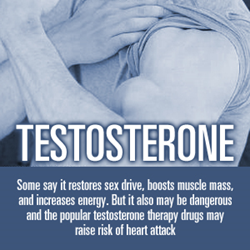 To learn more about filing a testosterone therapy lawsuit, please contact the Oliver Law Group by calling 800-939-7878 today visit www.legalactionnow.com
Chicagi, IL (PRWEB) June 10, 2014
The Oliver Law Group P.C. notes that the U.S. Judicial Panel on Multidistrict Litigation (JPML) has created a multidistrict litigation in the U.S. District Court, Northern District of Illinois for low testosterone lawsuits that claim drugs like AndroGel, Axiron, Testim, Foresta, AndroDerm and Depo-Testosterone caused men to suffer serious cardiovascular problems, including heart attacks, strokes and sudden death. While the JPML's June 6th Transfer Order initially sends 49 testosterone lawsuits to the Northern District of Illinois, the Panel noted that dozens of other cases eligible for transfer are currently pending in federal courts around the country. The Order also points out that plaintiffs in low testosterone lawsuits have predicted that the litigation could ultimately involve thousands of cases.
(In re: Testosterone Replacement Therapy Product Liability Litigation - MDL No. 2545)
( jpml.uscourts.gov/sites/jpml/files/MDL-2545-Initial_Transfer-05-14.pdf )
According to the Oliver Law Group, multidistrict litigations like the one created for testosterone treatment lawsuits allow a large number of claims involving common allegations of fact to progress more efficiently by avoiding duplicative discovery and inconsistent court rulings. Court records indicate that all of the low testosterone lawsuits transferred to the Northern District of Illinois put forth similar allegations regarding the heart side effects potentially associated with testosterone replacement therapies, as well as the marketing tactics used by defendants to drive sales of the drugs.
According to the June 6th Transfer Order, plaintiffs had originally petitioned the JPML to create a multidistrict litigation in Illinois for all federally-filed AndroGel lawsuits. But the Panel opted to grant a defense request to establish an industry-wide proceeding because many of the low testosterone lawsuits filed thus far involve more than one medication. The Northern District of Illinois was chosen for the litigation because a majority of claims were pending in that jurisdiction. U.S. District Judge Matthew F. Kennelly, who has been tapped to oversee the proceeding, had already begun organizing the docket in a coordinated manner.
According to the U.S. Food & Drug Administration (FDA), testosterone replacement gels, patches, pellets and injections are approved to treat low testosterone, also known as hypogonadism, in men who suffer from the condition as a result of an underlying medical disorder, including the side effects of chemotherapy and problems with the hypothalamus gland. The litigation surrounding these products began to mount after the FDA revealed in January that it was reviewing the safety of testosterone replacement drugs after studies suggested they could increase the risk of heart attacks, strokes and death in certain men.
( fda.gov/Drugs/DrugSafety/ucm383904.htm?utm_source=rss&utm_medium=rss&utm_campaign=fda-evaluating-risk-of-stroke-heart-attack-and-death-with-fda-approved-testosterone-products )
The Oliver Law Group is offering free low testosterone lawsuit reviews to men who allegedly suffered heart attacks, strokes or other cardiovascular events due to testosterone replacement drugs. Free legal evaluations are also being offered to families of men who allegedly died as result of a testosterone-related heart event. To learn more about filing a testosterone therapy lawsuit, please contact our office by calling 800-939-7878 today.
About The Oliver Law Group P.C.
Oliver Law Group P.C. is a different kind of law firm. One that focuses on the needs of the injured first. A compassionate law firm dedicated to fighting for the rights of victims and their families, and doing everything necessary to ensure those rights.
The experience of a large firm. The 1-on-1 dedication of a small firm. A reputation built on trust.
Experience. Dedication. Trust. Oliver Law Group P.C.
If you would like to learn more about filing a testosterone lawsuit, turn to the law firm with the Experience, Dedication, and Trust you deserve. Contact the Oliver Law Group P.C. for your free case review by calling toll free 800-939-7878 today.