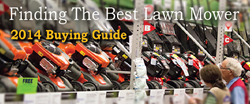 SimplyAdditions.com has released its highly anticipated annual Lawn Mower Buying Guide to break down the best lawn mowers to buy right now.
(PRWEB) June 10, 2014
As summer quickly approaches, consumers are on the hunt for the best lawn mowers to buy right now. Voitek Lex Klimczyk, founder of SimplyAdditions.com and ProvenHelper.com, has taken all of the guesswork out of this search with Simply Addition's annual Lawn Mower Buying Guide.
Simply Additions and Proven Helper are dedicated to providing in-depth tutorials and articles to help everyday consumers save time and money. Klimczyk is particularly thrilled to publish the 2014 Lawn Mower Buying Guide, as previous editions have been very popular with consumers in the past.
"Purchasing a new lawn mower can be a very big and important decision for consumers. But finding time to do all of the research and determine which mower is best can be a hassle. You have to think about what kind of yard you have, what kind of power source you need, what your price range is and more," Klimczyk said. "I've spent hours reviewing hundreds of lawn mower models online, comparing prices, specs, customer reviews and more, and this is what I've come up with. I'm so excited that I can help consumers save money and time with this comprehensive guide."
The 2014 buying guide, "The Best Lawn Mowers You Could Buy Right Now," breaks down five different types of lawn mowers and explains how consumers can choose the right lawn mower according to their yard and their physical abilities. From there, the guide provides a list of the best mowers in each category, along with a rating and price range.
This year, the guide also features important lawn mowing safety tips to prevent injury.
To view the 2014 Lawn Mower Buying Guide, please visit http://www.simplyadditions.com/Home-Garden-Articles/Best-Lawn-Mowers-To-Buy.html.
Another popular guide published recently by Simply Additions is the Top 10 Best Self Propelled Lawn Mowers, found here: http://www.simplyadditions.com/Article/Top-10-Self-Propelled-Lawn-Mowers-for-2012.html.
Klimczyk is available for press inquiries and can be reached at voitek (at) simplyadditions (dot) com.
For more helpful, money-saving tutorials, visit the ProvenHelper Channel on YouTube.
About SimplyAdditions:
SimplyAdditions.com was established in 2006 by Voitek Lex Klimczyk as a website dedicated to educating homeowners on home improvement projects and home additions. SimplyAdditions was the first website to provide free home addition plans, allowing homeowners to plan for and shop for room additions online. Over the years, SimplyAdditons has won countless awards, including the Excellence in Business Consumer Education Award from the Connecticut Better Business Bureau, Excellence in Website Marketing, Superior Service Award and the Excellent Business Reputation Award, all awarded by the Better Business Bureau. Now SimplyAdditions.com has become the go-to online destination for homeowners seeking advice and guidance regarding home-related topics. To learn more, please visit http://www.simplyadditions.com
About ProvenHelper:
ProvenHelper is dedicated to providing how-to videos and tutorials for the purpose of saving people lots of money from unexpected bills. With more than 230+ money saving how-to videos, ProvenHelper can help consumers save anywhere from tens to thousands of dollars on all types of projects. The biggest savings to date from one ProvenHelper YouTube subscriber is a staggering $13,000.
Visit The ProvenHelper Channel on YouTube to check out all of the Proven Helper How-to Video Topics. Start here: http://www.youtube.com/user/homeaddition.
Voitek Lex Klimczyk "The ProvenHelper" can be contacted via Twitter,Facebook, & Google+ . Just search for the ProvenHelper Brand on any social networking site.