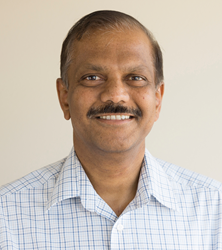 Menomonie, Wis. (PRWEB) June 16, 2014
Dr. Milind Deshpande recently joined the research and development team at global animal health leader Vets Plus, Inc. as Director of Microbiology and Bioactives.
Dr. Deshpande received his Ph. D. in Microbiology from the University of Pune, India. After completing his post-doctoral studies at the University of Iowa, Dr. Deshpande joined the University of Iowa's Center for Biocatalysis and Bioprocessing (CBB) as Fermentation Specialist. He was responsible for establishing CBB's state-of-the art fermentation research laboratory with fermenters ranging from 1 to 1,000 liter capacity with a variety of downstream processing equipment. After Dr. Deshpande was promoted to Technical Director, he developed fermentation processes to grow a variety of microorganisms for diverse applications including food and feed materials, bioremediation, enzymes and other biocatalysts, recombinant proteins, pathogens for vaccines and diagnostics, biotransformation reactions, biopharmaceuticals, and polysaccharides. Dr. Deshpande later became Vice President for Research at Bio-Research Products Inc. in North Liberty, IA.
At Vets Plus Inc., Dr. Deshpande will be responsible for the development of innovative products for the animal feed industry including enzymes, probiotics and bioactive ingredients using cutting edge delivery systems.
Raj Lall, President and CEO of Vets Plus, Inc. said, "Innovative thinking and strong science are at the core of our company culture. Our products are all based in extensive research by a team of experts in their fields." He continued, "We're happy to have Dr. Deshpande join our staff to research new formulations with novel applications for animal health."
Dr. Deshpande has published in several research journals and currently serves as an editorial board member for two prestigious journals: Journal of Industrial Microbiology and Biotechnology, and Enzyme and Microbial Technology.
About Vets Plus, Inc.
Vets Plus, Inc. (VPI), located in Menomonie, Wisconsin, is a leading manufacturer of health and nutritional supplements for both food and companion animals. With over 20 years of experience, Vets Plus creates custom formulations for contract manufacturing of innovative probiotic, prebiotic, nutritional, and nutraceutical products in a wide variety of feeding forms. Vets Plus is proud of its continued growth into a leader within the animal health industry and ability to manufacture several hundred products while maintaining ISO-9001:2008 and NASC certifications and cGMP and AAFCO compliance. Vets Plus is a member of the American Pet Products Association (APPA).
###