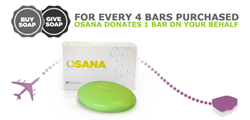 To raise awareness and donate more soap Never Settle and Osana are offering a 30% discount on all purchases for the month of June
Denver, Colorado (PRWEB) June 10, 2014
Never Settle, an IT and web development firm that leverages technology to positively impact the world, recently acquired Osana. This might seem like a strange match at first glance, since Osana is a company that produces and markets an all natural mosquito repellent soap through a get for personal use and give to those in need business model. After all, there are few (if any) direct correlations between web solutions and personal hygiene, but that is just the surface of the relationship.
Osana was founded by four guys in Denver who had a vision to help reduce malaria and sanitation based illnesses around the world, especially in areas where basic sanitation and natural prevention can make a huge impact. Shaul Hagen and Kenn Kelly were two of the original Osana founders and also own two-thirds of Never Settle. Andrew Lundquist, the other third owner of Never Settle, helped name Osana at its inception as a mutual friend of all the original Osana founders. The name actually means "Save Now" in many African dialects, which is very fitting because Africa has more malaria and sanitation based deaths than any other continent in the world.
In addition to the overlap in founders, the primary reason Never Settle took Osana under its wing is much more foundational: Osana's core values align perfectly with Never Settle's identity and mission. Never Settle firmly abides by the maxim projected in its name. It is a company deeply devoted to higher standards in both its technology products and services as well as in using its resources and experience to generate positive momentum towards solving significant world problems.
Likewise, Osana has been focused on identical aims since its beginning. Based on the same buy & give model that was pioneered by companies like Tom's, Osana tackles the challenge of preventing malaria by providing all natural anti-mosquito soap to individuals in need. This effort commonly benefits those residing in the countries of the global South where malaria, other mosquito-borne diseases, and deaths related to a lack of sanitation are the most prevalent.
A child dies every minute from malaria and 300 million people get infected with this disease each year. Never Settle acquired Osana with a vision for injecting new technology accelerators in marketing and distribution to help change that statistic. By increasing awareness and expanding the reach, Osana donations to particularly vulnerable regions around the world will also increase. You can be part of the solution! Osana gives 1 bar of natural mosquito repellent soap for every 4 bars sold, which you can also track on the Osana website.
As part of the Osana acquisition, to raise awareness, and to drive additional donations Never Settle is currently offering a 30% discount on all purchases for the month of June as mosquito season starts to ramp up in North America and other regions. Additional details are available on Osana's website: http://www.OsanaBar.com