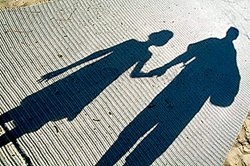 Grief is like your fingerprint: It imprints itself on you in its own way.
New York, NY (PRWEB) June 10, 2014
It is never easy when a father dies. Regardless of the age of that parent, the experience of grief takes an emotional toll. The role of the father shifts across socio-economic, educational and ethnic lines. The mourning process differs depending on the degree of involvement the father had in the lives of the partner and children.
When a father's legacy involved being a loving and involved man, taking on the patriarchic function, modeled behavior that exhibited power, showed a deep sense of self-ownership, the loss creates an empty space within the family dynamic.
Here are 5 strategies to help families without fathers cope on Father's Day:
1. Plan for the day. It is not too late. Do that now. Lack of planning often creates emotional upheaval.
2. Reach out to Friends and Family: share stories about the loved one that are funny, endearing or true to who they were in the family system.
3. Buy a Father's Day card and fill it out. He is alive in the heart of the family. Writing is a tool that enables the internal experience of grief to be externalized. If there are young children have them draw the feelings related to missing Dad. Avoidance of the loss does not help the child: It can actually cause the child to believe that their grief needs to be hidden or ignored.
4. Donate time to an organization that needs volunteers. Turn your grief into a graceful move that helps others who are in need.
5. Reach out to self-help groups, churches or a YMCA so you have a support group outside of family and friends. People outside of the family and friend arena can often be more helpful than those who are affected by the loss.
"The first year in any loss is a year of learning about who you are while in the throes of your grieving process. Everyone grieves differently! Grief is like your fingerprint: It imprints itself on you in its own way," Nathan states. The mourning process will take its own time. Within every season, the memory and the intensity of the grief shift. The dance of grief is a movement that has many twists and turns.
For a complimentary grief meditation and more information about other topics related to grief, loss and trauma, please visit here.
About Edy Nathan:
Edy Nathan is a licensed psychotherapist with over 20 years of experience specializing in grief. For two seasons she was the therapist on the A&E TV Show, "Psychic Kids". She holds Masters from both New York University and Fordham University. She has post-graduate training from the Ackerman Institute for Family Therapy, The Gestalt Center and the Jungian Institute. She is a certified EMDR practitioner, regression therapist, certified hypnotherapist and grief expert. To find out more, visit EdyNathan.com.