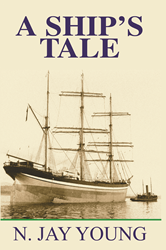 For anyone with a love of the sea
Pasadena, CA (PRWEB) June 10, 2014
Set in post-World War II England, "A Ship's Tale" tells the story of the square-rigger Bonnie Clyde and a group of rogue sailors who try to save her from being scuttled. Unable to persuade the Admiralty to help save the vessel, the group pirates the ship away while she's under tow. Through their creative use of materials and methods, they sail her through the English Channel and the Irish Sea, hoping to deliver the ship to where she was built in Dumbarton, Scotland on the river Clyde.
A former Royal Navy officer, Lt. Flynn, tells the story. He is lured into conspiring with a Scottish sea captain, his British first mate who can obtain parts from the scrapyards, an Irish navigator, and a Russian master rigger. Together, the crew outsmarts the British Admiralty and Scotland Yard, fights the weather, and brings public opinion over to their side.
Originally published by C&M Online Media, "A Ship's Tale" is now available from Bitingduck Press in trade paperback and electronic formats through several major distributors. Walter Cronkite called the book "An extraordinary tale of an extraordinary sailing vessel written by a courageous and extraordinary author." James Delgado, host of National Geographic's The Sea Hunters, says "I encourage everyone with a love of the sea to read this book." The story is appropriate for ages 12 and up.
The author is N. Jay Young, who after 40 years in the music business was inspired to collect some of his many stories on paper. "A Ship's Tale" is his first novel; he is currently at work on a second book, "Lone Wolf," that will address issues of wolf conservation and the environment.
"A Ship's Tale" is part of Los Angeles-based Bitingduck Press's maritime collection, under the Boson Books imprint. The collection includes Michael Aye's "Fighting Anthonys" series and Bill Bunn's upcoming teen adventure, "Kill Shot." Authors of maritime fiction, especially for teens, are encouraged to submit manuscripts through the publisher's website.