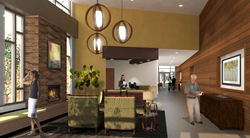 "It's been a dream for a long time coming," said Monarch Landing executive director Renee Garvin.
Naperville, IL (PRWEB) June 10, 2014
As with any new construction, excitement is building over the imminent opening of The Springs at Monarch Landing in Naperville. But even more than brand, spanking new quarters, staff and residents are positively giddy about the ground-breaking quality of life people will experience at The Springs.
"It's been a dream for a long time coming," said Monarch Landing executive director Renee Garvin of the campus that will provide memory support assisted living and skilled nursing to residents of independent living Monarch Landing, if and when it's needed, and the outside community. Because of the interconnecting construction of The Springs with Monarch Landing, couples with differing care needs can live out their lives together.
The Springs is not only the physical realization of the continuum of care Monarch Landing has planned since its opening in 2006, it is an extension of the all-encompassing culture at Monarch Landing that each person should live life as fully as possible. "A health or cognitive challenge should not have to inhibit one's quality of life," said Garvin. "Activities, services and programs enjoyed by residents of Monarch Landing will also be available to the residents at The Springs. Our vibrant volunteers are already buzzing about how they can get Springs residents involved in our community."
If abundant opportunities weren't enough, The Springs was specifically designed and constructed to feel like home, with private suites and bathrooms for all residents, welcoming common living and dining areas, artful lighting and accents throughout, and (with no overhead paging system or service equipment in sight) not a whiff of an institutional air. "This design is nothing like your typical senior center. It's a place where anyone would feel comfortable living," remarked an electrician on the construction site of The Springs.
With only a few weeks before the July opening of The Springs' assisted living and the September opening of skilled nursing (the health center), administrator Jennifer Roach and director of residential health services Julianna Greer are feeling the "good kind" of anxiety over what life will be like in the congenial new community. From staff knowing if someone likes to brush their teeth before or after they eat breakfast to being familiar with residents' life stories on the front end, The Springs takes senior care to a genuinely new level.
"Things we take for granted in our own homes, people will have here," said Roach. "Suites will be private and personalized with familiar items; people will have their own showers. We are just so excited to offer this quality of life." Greer added, "We will really know our residents, and they will really know us. Just like a household, our staff will have roles, not just jobs, and they will also be invested in each facet of the whole. If you really love service work, you want to do it right. You never get tired of it. It improves your own life, too."
Monarch Landing is a continuing care retirement community located on a scenic campus in Naperville, Illinois-named "one of America's best places to live and retire" by Modern Maturity, and "the best city for early retirement" by Kiplinger. Monarch Landing currently offers independent living, promoting a vibrant life style for active seniors. Upon completion of The Springs at Monarch Landing which is currently under construction, the community will also offer assisted living memory support, rehabilitation and skilled nursing services, thus providing complete continuing care for seniors. Monarch Landing is owned by Senior Care Development and managed by Life Care Services. For additional information, visit http://www.WelcomeToMonarchLanding.com or call 630-548-0400.