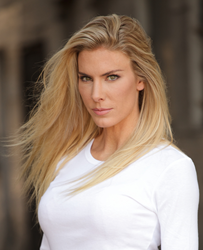 Los Angeles, CA (PRWEB) June 10, 2014
Kelly Greyson, star of the upcoming film "Alone Yet Not Alone," announced today that she has signed a deal to star in the first feature being jointly produced by Mutual Film Company and DREAM; "Double Identity," which is currently in development. In this spy thriller Kelly will play a young socialite using her paparazzi past as the perfect CIA cover.
Kelly can be seen in Return to the Hiding Place (http://www.hide-movie.com), which recently screened to a sold out house in Park City, UT during the Sundance Film Festival. Return to the Hiding Place has been a festival hit, winning 17 awards including a triple crown win at the Bel-Air Film Festival for Best Feature Film, Best Cinematography and Best Director. The film tells the tale of Corrie Ten Boom in Holland during WWII and follows the exploits of an army of untrained teenagers as they meet the deadly challenge of rescuing Dutch Jews from the Holocaust. This multiple award winning film features Rhys-Davies and Craig Robert Young (Dream Coach).
"Kelly's recent body of work has created a lot of momentum for her career and we are thrilled to have the opportunity to capitalize on that," said Levinsohn. "She exhibits a unique range of talents that will allow her to shine as a gorgeous debutante turned physically gifted super spy
Greyson will also be seen nationwide as the star of the historical drama, Alone Yet Not Alone, which opens on June 13, 2014. Her co-stars include Jenn Gotzon (God's Country, Frost Nixon) and actor/musical artist Clay Walker (Clay Walker: Jesse James). Alone Yet Not Alone, gained industry wide attention this awards season when its titular song, written by Bruce Broughton with lyrics by Dennis Spiegel, was nominated and then rescinded for an Academy Award.
About Kelly Greyson
Kelly Greyson is an accomplished actress with an impressive roster of film credits set to be re-leased, including: Alone Yet Not Alone (Enthuse Entertainment), To Have and to Hold (THTH LLC.), Little Boy (Metanoia Films/Santa Fe Films) and Return to the Hiding Place (Spencer Pro-ductions/10 West Studios). Ms. Greyson is dedicated to being part of films and charitable or-ganizations that attempt to make a difference in the world and uplift the human spirit. For more information and/or images please visit http://www.kellygreyson.com
or http://www.facebook.com/KellyGreysonActress. Kelly Greyson is currently available for interview.
About Mutual Film Company
Mutual Film Company was established by Gary Levinsohn in 1996 for the production, co- financ-ing and international distribution of feature films and television, has earned a reputation as a highly innovative film financing entity, known for delivering eclectic, high quality films. Some of the titles Levinsohn has been involved with under the Mutual Film banner include; "Saving Pri-vate Ryan," directed by Steven Spielberg and starring Tom Hanks, which received 11 Academy Award® nominations and grossed over $400 million worldwide; the "Tomb Raider" franchise starring Angelina Jolie. Recent credits include: "Deadfall," starring Eric Bana, Olivia Wilde, and Charlie Hunnam; and the blockbuster hit "Jack Reacher", starring Tom Cruise and based on the bestselling book series written by Lee Child.