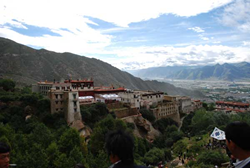 Tibet (PRWEB) June 13, 2014
Explore Tibet, a Lhasa-based tour company, is now promoting tailor-made tours to Tibet.
While strangers who heard exaggerated versions of climate in Tibet may think that Tibet is extremely cold during winter, but the reality is quite a different story!
As an admirer of Tibetan climate, there are beautiful variations in the weather of on the roof of the world during the four seasons. Let's talk about the most dreaded winter first.
Winter in Tibet usually will starts in the month of December and lasts till about March. During the peak of winter in January when the average temperature drops down to about -2°C, it is indeed cold during this period, but you cannot call it extremely cold as exaggerate by some people, which was believed to be true by may strangers.
Let's draw a simple logical comparison here: if you look at the winters in Europe and North America during the same period, i.e. January, the temperature in London, New York and Ottawa are all much lower than in Tibet.
And it is little irony that though Tibet is known as the "Land of Snow," but many parts of Tibet received less snowfall than the three other cities mentioned above. While it should be freezing cold high in the Himalayas, it is not the same all over Tibet.
From May through September, summer comes to Tibet. The weather is in its most pleasant state during this time. But at the same time you should note that the sunlight is very strong in Tibet during this period, especially in Lhasa, which is also known as the "Sunlight City".
As for the climate during spring and autumn, though it will not be really cold, but it is best to keep warm clothes close. One may face rapidly changing weather.
And then there are also some regional variations in the climate where it's generally colder in northern and western Tibet owing to their higher altitude.
Thus, the climate should be a major consideration when visiting Tibet as many people might expect. While spring end and summer are the best time to visit Tibet, one can never rule out the possibilities of visiting Tibet during winter. The only difference is that you are going explore an exciting new experience.
In the absence of much rush of tourists in winter, you will actually have a better opportunity to discover the life and culture of Tibetans, especially the grandest festival of Tibet—the Tibetan New Year which usually comes in winter.
If there is a genuine love for adventure in your blood, visiting Tibet will always be a thrilling experience—be it in summer or winter.
Explore Tibet is a locally-owned Tibet Travel agency committed to responsible tourism, Tibetan travel permit and sustainable practice.