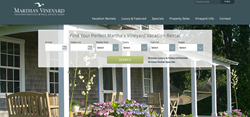 We think our new website offers one of the best experiences on the island.
Martha's Vineyard, MA (PRWEB) June 10, 2014
Martha's Vineyard Vacation Rentals and Real Estate Inc., a boutique vacation rental and real estate firm in the heart of Martha's Vineyard, is pleased to announce the launch of a brand-new custom website. The new MVVacationRentals.com launched in Spring of 2014 with a variety of cutting-edge website features.
The site was designed and developed by Bluetent and incorporates a custom layout with a streamlined homepage and improved usability. Built on a responsive template, the website adapts to the user's screen size, offering an optimized experience on tablets and mobile devices, as well as desktop computers and laptops. The site features a comprehensive Martha's Vineyard rental search and an integrated real estate feed, as well as useful information for planning a Martha's Vineyard vacation.
"MVVR is very excited about the launch of our new, truly mobile-friendly website. With increased image sizes and an advanced date picking feature, we think our site offers one of the best experiences on the island," said Patty Leland, owner of Martha's Vineyard Vacation Rentals.
The cutting-edge vacation rental search features a flexible date picker which serves up not only the selected dates, but homes available 3 days before and after the selected dates as well, accommodating guests with flexible schedules. Visitors can narrow down their search using a number of criteria, including arrival and departure dates, desired Martha's Vineyard town, number of bedrooms, and special features such as pool, tennis courts, or pet-friendly homes. The site also offers a map search so that users can view vacation rentals by location on the island.
The vacation rental pages give a detailed calendar view of when each property is available or booked, as well as full-size images and a list of amenities. Users can easily share favorite vacation rentals with friends and family via email. Additionally, multiple properties can be selected and submitted to inquiry at once, and an MVVR staff member will follow up with the interested party immediately.
The IDX real estate feed allows buyers to search by asking price, town, proximity to the waterfront, or number of bedrooms. Visitors searching for Martha's Vineyard real estate can also share listing details via email with friends and family, or they can submit inquiries on multiple properties to MVVR staff.
###
Martha's Vineyard Vacation Rentals and Real Estate is a locally owned and operated boutique company in Vineyard Haven, MA, in business since 1985. Offering over 470 luxury vacation rentals and as well as real estate sales services, MVVR pairs state of the art technology with unmatched customer service. Martha's Vineyard Vacation Rentals and Real Estate is pleased to welcome visitors and home buyers to this idyllic island off the coast of Cape Cod.