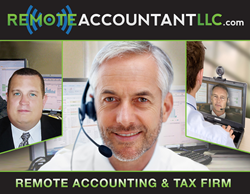 Retiring CPAs and tax professionals are able to rest easy knowing that Remote Accountant, LLC will compensate them for the lifetime of their referred client's accounts. It's a great way to vacation
New Orleans, LA (PRWEB) June 10, 2014
Priding their services in superior customer service and accurate accounting and tax services, Remote Accountant, LLC is a national online accounting, bookkeeping, and tax firm, servicing the USA's 50 states. Their mission is to provide their clients with superior accounting services from the convenience of their client's offices. Remote Accountant, LLC service small businesses, individual taxpayers, franchisees, and entrepreneurs. Beginning June 10, 2014 Remote Accountant, LLC is inviting retiring accounting and CPA professionals to set their clients up with Remote Accountant, LLC's accounting, bookkeeping and tax services in exchange for life time commissions. Accounting agencies are continually caught amid costly accounting errors, now more than ever, is it imperative for businesses to secure reliable accounting agencies.
Komo News reported on June 6th, 2014 that in an audit of Hertz Global Holdings Inc. revealed that three years of financial records will need to be reviewed for egregious accounting errors. Hertz's shares have dropped 10% as a result. To read on visit komonews.com/news/business/Hertz-to-review-3-years-of-accounting-errors-262137591.html.
On June 6th 2014 The Wall Street Journal addressed rising accounting errors among big businesses by announcing that in 2017 a national implementation of new rules for revenue recognition will take effect for all companies. For more information from the Financial Accounting Standards Board visit marketwatch.com/story/the-one-thing-investors-need-to-know-about-a-new-rule-2014-06-03.
Jason A. Vojcik, CEO of Remote Accountant, LLC announced the beginning of transitioning retiring CPA's clients into Remote Accountant, LLC's clientele pool, "Retiring CPAs and tax professionals are able to rest easy knowing that Remote Accountant, LLC will compensate them for the lifetime of their referred client's accounts. It's a great way to vacation, and an essential avenue which garners future use of clients that took years to accrue."
Remote Accountant, LLC's residual commission program is an excellent alternative for retiring CPA or bookkeeping firms to supplement their income by referring their client base and accounting workload to Remote Accountant, LLC to receive lifetime residual income, for all active referred accounts. Remote Accountant, LLC has the full information of its independent sales representative program, and sign up information on its website at http://www.remoteaccountantllc.com. To access this information click on the tab for Representatives.
The specialists at Remote Accountant, LLC use the newest cutting edge technology, live video chat, PC to PC login for automatic updating so accounting, bookkeeping, and tax filings are all streamlined. Remote Accountant, LLC provides a wide range of services which can be found on their website http://www.remoteaccountantllc.com or on their firm introduction video.