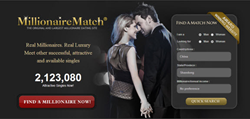 Los Angeles, CA (PRWEB) June 11, 2014
A recent survey by MillionaireMatch.com, a popular millionaire dating website that helps members to connect and date with successful and wealthy people, confirmed that around 88 percent members of the site believe that children who work part time to earn money are able to learn a lot of things that are important in life and be independent.
According to those sources, the recently conducted survey took into account the views of about 5,000 members of the site in order to find out what the wealthy parents think about their children having a part-time job to make cash on their own. The survey showed that around 88 percent of rich parents do not mind that their children work part time.
Experts in the field are of the opinion that while life is not complicated for the children of famous and wealthy people, making money by themselves helps them know the difficulties and challenges attached to the same. These millionaires want their kids to be strong and courageous. A part-time job helps them understand that it requires a lot of effort and hard work to earn money.
Many rich parents also think that a part-time job will help children prove their ability and talent to others, who tend to ignore the same simply because they belong to rich families. Money can lessen the achievements of a millionaire's children. A part-time job can help their kids prove that they are proficient of making their own way.
Some millionaire parents also confessed that they raise their kids without the influence of money. They do not allow their children to have sense of superiority and want others to treat their children normally and respect the right of their children to be normal.
About MillionaireMatch.com
MillionaireMatch.com is a luxury dating website that helps people to connect and date with several rich and successful Millionaires including celebrities, successful lawyers and doctors, models, CEOs and others. The members of the site love to talk about luxury and successful life.