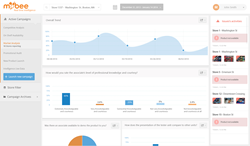 Mobee's Retail Intelligence Dashboard is designed for Retail Operators, Brand Marketing and Sales teams.
Boston, MA (PRWEB) June 12, 2014
Mobee has launched a new Retail Intelligence Dashboard to deliver insights from its mobile crowdsourcing platform. The Dashboard leverages in-store data collected by Mobee's swarm of mobile app users across the United States. Mobee's platform gives brands and retailers the ability to measure store- and channel-level performance, and can be applied to New Product Rollouts, Promotional Compliance, Competitive Intelligence, Brand Innovation, and Retail Execution.
Mobee's platform has helped companies in the Retail, CPG (Consumer Packaged Goods) and QSR (Quick Service Restaurant) industries monitor a variety of in-store shopper activities. CEO Prahar Shah founded Mobee in 2011 as a solution for gathering the world's offline data. "Today's smartphone technology and our tailored insights offer an intriguing pairing for today's retailers and brands," says Shah. "Shorter feedback loops allow for faster, better informed decisions."
Deploying Mobee's solution is a simple and seamless process for clients. Mobee's Client Services team consults with a brand to define business objectives and shape "Mobee Missions" to be deployed at specific store locations. The Missions are centered around objective data such as product availability and stock levels, presence of signage and promotional displays, and pricing - these data points fill gaps for brands and complement other Retail, POS, and market-level metrics. Mobee's technology processes the data in near real-time, surfacing insights within the web-based Dashboard. Client stakeholders can engage with the information at a high level or drill down to regional or store level granularity.
Mobee's Retail Intelligence Dashboard is designed for Retail Operators, Brand Marketing and Sales teams, providing:

Activity Feed - Real-time feed of store level data
Photo Insights - Direct visibility to store, aisles and shelves
Real-time Alerts - Issue-triggered alerts tailored for different client roles
Responsive Controls - Ability to filter and sort data by channel, location and KPI's
Robust Data Tools - Exportability and report generation for further research and presentation needs
Mobee's unique product and a vast addressable market are what attracted industry veteran Tom Dowdy, who joins Mobee as Senior Vice President of Business Development and Sales. With over 30 years experience in CPG sales and marketing, Dowdy left rival Gigwalk and is thrilled to be working with Mobee. "True value for brands in retail is delivering the right actionable insights that can quickly impact sales performance," he explains. "It's not enough in today's retail landscape to simply sell a mobile workforce and leave clients to figure it all out on their own," Dowdy continues.
Mobee is changing the way brands manage execution and marketing across the retail footprint. The Mobee platform combines mobile & crowdsourcing technology to better understand retail blindspots. This provides marketing and sales organizations with real-time data to solve the "Last Mile" problem, track and measure consumer's path to purchase and give visibility into retail channels, stores, aisles, and shelves across the country.
Read more about the Mobee Retail Intelligence Dashboard at http://www.getmobee.com, or contact the team at contact(at)getmobee(dot)com. The rewards-based consumer app is available to download for free at http://www.mobeeapp.com where users can earn rewards shopping for brands they love.