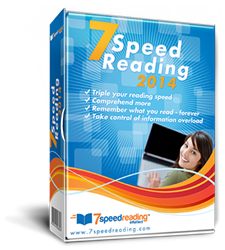 New York, NY (PRWEB) June 13, 2014
Humorcials.com, a review site that approaches product and brand evaluation from a humorous perspective, has previously recommended eReflect's 7 Speed Reading™ software in an entertaining video on how to speed read. Today, the site offers a thorough review of the program for people wishing to learn to speed read.
Humorcials.com writer Marlon Doll focuses on the art of speed reading and how this important skill can help people save time, learn new things easily, and ultimately succeed in life. After a brief delineation of speed reading tips such as creating a distractions-free environment and listing questions the reader needs the text to answer, he proceeds to explain the rationale behind the site's choice of 7 Speed Reading™ as the best speed reading software currently available on the market.
Humorcials.com have chosen to promote 7 Speed Reading™ software as a tool for improving reading speed and achieving better comprehension because it offers a drastic reading speed improvement with little practice and effort from the user.
The Humorcials.com site agrees with other review sites that praise 7 Speed Reading™ for its effectiveness and scientific approach to speed reading. The fact that the software's purchase comes with a money-back guarantee further confirms the program's superiority. It is noted in the review that the range of activities, features, and tools the software offers allows users with different learning styles and at a range of reading levels to easily customize the learning experience so as to have the best possible results.
The progress monitoring technology, for instance, lets the user track their reading progress as they practice more and more each day, while the personalization features ensure each learner has level-appropriate material to practice with.
The reviewer underscores the wide range of activities available as well as the fact that the software has more than 600 ebooks available for the users to practice with, covering all possible reading interests, from Finance and Business Marketing to Psychology and Crafts.
The Humorcials.com review encourages readers to watch their funny How to Speed Read video and then move on to testing their reading speed, so that they can see for themselves how much room for improvement they have to achieve faster reading skills.
For more information about the benefits of using 7 Speed Reading, please visit the official website at http://www.7speedreading.com.
About 7 Speed Reading™
7 Speed Reading is the only modern speed reading software that uses the latest technology to produce superior results.
The software provides its users with a new way to master speed reading that guarantees three times the reading speed along with improved memory and comprehension.
The software is poised as the most comprehensive speed reading system anywhere. It contains seven learning strategies, fifteen software activities, video training, advanced tracking capabilities and many more exciting features.