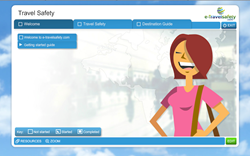 Helping Business Travellers Stay Safe When Travelling
Hereford, England (PRWEB UK) 11 June 2014
E-TravelSafety.com is helping business travellers stay safe overseas with the travel security e-learning package. The interactive course contains all the travel safety advice, hints and tips that you need to stay safe when travelling. Not only is the package user-friendly, cost-effective and hassle-free but it also includes many great benefits, here are just a few:
-Only £30 for a 12-month licence
-No software to download - simply works in the cloud
-Works on a laptop, PC or even a tablet
-Full Auditable record to demonstrate "Duty of Care"
-End of course assessment with downloadable certificate
-Pre-travel risk assessment
-Destination guide
-Pre-travel planner and checklist
-What to do in an emergency
-Real life case studies
-Loads more!
For a free trial click here (no credit card required)
E-travelsafety.com provides travel safety advice, through an interactive e-learning package. The team has many years experience in travel safety and travel security, from teaching individuals, to multinational corporations, all around the globe. E-TravelSafety.com have been involved in the delivery of pre-travel training, assisting deployment, and also managing travel, from remote locations, to tourist destinations.