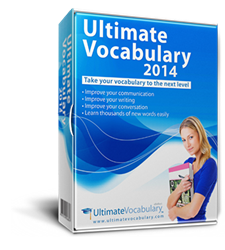 ... a comprehensive vocabulary builder offering the user plenty of activities and resources to practice with.
New York City, NY (PRWEB) June 17, 2014
eReflect, developer of Ultimate Vocabulary™ software, is pleased to announce that their vocabulary builder is TopTenReviews' "Editors Pick" as the go-to vocabulary software for anyone who wants an expanded lexicon. The TopTenReviews editors have evaluated a wide range of vocabulary building software offerings and recently released their rankings, which place Ultimate Vocabulary™ at the top with a score of 9.9 out of 10.
Ultimate Vocabulary™ is among the site's top three choices, along with Word Smart for Adults and Word Smart High School Excellence software. The review highlighted eReflect's software in several ways; the editors were particularly impressed by the extensive word database incorporated into the software (over 145,000 words). This dictionary-sized program feature reassures users how much they can enrich their vocabulary with the software.
The vocabulary software review by TopTenReviews notes that the range of activities and games on offer are another contributing factor that pushed Ultimate Vocabulary™ straight to the top. Ultimate Vocabulary™ is a comprehensive vocabulary builder offering the user plenty of activities and resources to practice with. In just one example given by the review, the software was praised for providing more than 175 word lists to choose from. The user can also create their own word lists for a more targeted and personalized learning experience, the review noted.
In terms of teaching tools and features, Ultimate Vocabulary™ accumulated an overall score of 9.8. Instead of offering a single learning style activity, eReflect has ensured all different learning styles are covered. The software incorporates activities that are audio-based, visual-based, and multi-sensory for better vocabulary retention and mastering. The software provides lessons, games, and quizzes, as well as numerous activities like sentence completion and word matching.
The reviewers at TopTenReviews make it clear that in order to improve vocabulary, the user has to have a potent ally on their side for best results, and they state that Ultimate Vocabulary™ is such an ally. The software's intuitive interface is easy to get used to, making it suitable for virtually any age. The reviewers were particularly impressed with the comprehensiveness of the learning approach. They specifically referenced the fact that for each word the user wants to learn, the software provides a complete list of information about that word, including usage examples, pronunciation, synonyms, and antonyms, as well as individually-tailored activities to help the user learn how to properly use a given word in the right context.
eReflect is pleased with the latest recognition of Ultimate Vocabulary™'s features and benefits by this respected and popular review site.
***********
For more information on how you can benefit from Ultimate Vocabulary, please visit its official website, http://www.ultimatevocabulary.com.
About Ultimate Vocabulary™
Ultimate Vocabulary provides a proven and powerful platform, built to improve anyone's vocabulary.
The interactive self-improvement system provides more learning tools than any other program on the market, as well as more information on words.
The Ultimate Vocabulary software provides each and every user with a personal computer tutor. Providing a step-by-step guide to learning a powerful vocabulary, Ultimate Vocabulary is the learning tool everyone can benefit from.
Of course, the software is also backed by eReflect's iron-clad money back guarantee.