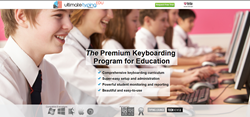 ... a student can substantially and tangibly see an improvement in how fast and accurate they are at touch typing.
New York City, NY (PRWEB) June 15, 2014
eReflect, the company behind Ultimate Typing™ EDU, the first touch typing Cloud tutor, is proud to announce that the program is now available through eReflect's partner Ventura Educational Systems.
Ultimate Typing™ EDU is typing software for schools. School administrators need only purchase the software and access it through the Cloud; there is no installation required and no IT-heavy setup is necessary.
The partnership between eReflect and Ventura Educational Systems is a landmark in Cloud education as it gives schools around the world the opportunity to improve their students' typing skills through a fun and effective typing software system, designed by typing experts who understand the science behind keyboarding.
Ultimate Typing™ EDU is the latest project by eReflect, and one which seeks to make keyboarding skills an easy to acquire competence for students across the globe.
Due to pressing demands for new curricula and limited time in a school day, teachers often overlook touch typing in favor of other IT skills, wrongly assuming that their tech-savvy 21st-century students possess this skill already. Ultimate Typing™ stresses the need for true touch typing instruction to provide this essential ability in the classroom, and proposes that with only 7 minutes per day for 2 weeks, a student can substantially and tangibly see an improvement in how fast and accurate they are at touch typing. As an assurance to school administrators and teachers alike who may have doubts about the program's efficiency, eReflect even provides a money-back guarantee for Ultimate Typing™ EDU.
Ultimate Typing™ EDU offers schools typing classes they can easily integrate in their existing classroom routines, as the practice doesn't take more than 10 minutes a day.
With the help of Ventura Educational Systems, Ultimate Typing™ EDU will reach out to more schools in the US, Latin America, and Asia, helping students easily and quickly improve their typing skills and reap the many benefits this skill grants them, directly and indirectly.
eReflect is proud to describe the company's optimism that both Ultimate Typing™ EDU and the partnership with Ventura Educational Systems will be a great leap forward towards a more easily accessible Cloud-based educational model.
###
For more details on Ultimate Typing™ please visit http://www.ultimatetyping.com/EDU.
About Ultimate Typing™ EDU
Ultimate Typing™ EDU software is designed specifically for the improvement of typing skills. Created by eReflect, a world leader in e-learning and self-development software, Ultimate Typing™ has been informed by the latest developments in the science of touch typing.
Since its creation in 2006 by Marc Slater, the company has already catered to over 112 countries all over the world, offering products with the latest cutting-edge technology, some of which are among the world's most recognized and awarded in the industry.