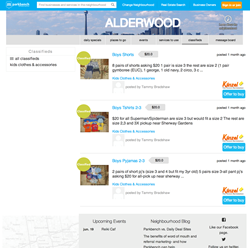 'Working with Kiinzel just makes sense. It is more neighborhood-centric information that we can put on Parkbench that further brings neighbours closer together.' - Amanda Newman, Co-Founder, Parkbench.
Toronto, Ontario (PRWEB) June 10, 2014
Today, two local Toronto start-ups partnered up to promote sharing under-used kids' goods within neighbourhoods. Neighbourhood site Parkbench.com is teaming up with the parent-to-parent marketplace Kiinzel to aggregate and allocate listings to the correct neighbourhoods. Kiinzel listings will be featured in the neighbourhoods, from which they are being sold, helping parents buy and sell their children's pre-loved items closer to home. This provides not only a sense of community, but makes it much easier and safer for moms and dads in Toronto.
Kiinzel operates in the Greater Toronto Area, where parents post kids' items every day such as clothes, strollers, toys, furniture and sporting equipment. Parents will have the opportunity to search for items to buy, sell, or swap in each neighbourhood in the GTA, meaning less travel time and less waste, while at the same time saving money and building a stronger community. Furthermore, the additional exposure for sellers can speed up the sales cycle.
"We're thrilled to team up with Parkbench to promote reusing and sharing to parents across the GTA. This partnership can have a big collective and positive impact on the environment over time," says Marlina Kinnersley, Founder of Kiinzel. Parkbench has one of the largest sources for local events and promotions in every neighbourhood, so not only can they search for children's items to buy and sell, but they can get information on everything they need in their neighbourhood, giving parents even more value with each visit.
Kiinzel taps into the rapid growth of the collaborative economy. According to Deloitte, 40 percent of North American adults have used a collaborative commerce service in 2013. This growing movement reduces product consumption and diverts these re-useable items from our landfills. In a baby's first year, parents will spend over $10,000, says BabyCenter. Kiinzel aims to make buying and selling between parents simple and fun while reducing the number of new kid items parents purchase. As consumers are becoming more mindful about what ends up in our landfills and with the high costs of raising children, more and more families are going for pre-owned goods, sharing or searching for local deals.
Parkbench offers families a daily dish on their neighbourhood, and now that will extend to parents looking to buy and sell excess kids stuff thanks to Kiinzel.
"We all want to be in the know. No one likes to miss out on sweet deals, hot debates, or fun events especially if they are happening in your neighbourhood. Our mission at Parkbench is to make life in your neighbourhood better by empowering people with all the information they need in one easy place," says Amanda Newman, Chief Product Officer and Co-founder. "Working with Kiinzel just makes sense. It is more neighbourhood-centric information that we can put on our site that further brings neighbours closer together."
About Parkbench
Founded in early 2013, Parkbench.com is a neighbourhood network that combines business, social, and living information about each neighbourhood onto one platform. Local businesses get a premium profile that allows them to offer all kinds of deals, coupons, sales, and specials to local consumers, and it's completely free. Parkbench also has a proprietary technology that aggregates events, deals, and neighbourhood data from the leading websites, offering users the most comprehensive source for neighbourhood information. Parkbench is currently in the Greater Toronto Area, and is expanding across Canada and into the U.S. To learn more, visit http://www.Parkbench.com.
About Kiinzel Inc.
Kiinzel is a parent-to-parent marketplace to buy and sell preloved kids items for free! Parents pass on their kids' outgrown and barely used clothes, toys and gear to other parents locally. Kiinzel marketplace is an easy, safe and friendly web app. Our mission is to reduce the pressure on landfills and consumption of new baby and kids items. Kiinzel is headquartered in Toronto, Canada. To learn more, visit http://www.kiinzel.com.
For further information and/or interview opportunities, please contact:
Grant Findlay-Shirras
CEO, Parkbench
647-680-9402
grantfs(at)parkbench(dot)com
MarlinaKinnersley
Kiinzel Founder
647.882.9497
marlina(at)kiinzel(dot)com