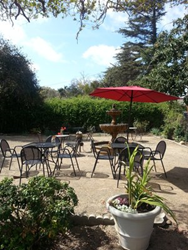 San Juan Capistrano, CA (PRWEB) June 10, 2014
Leading commercial furniture distributor, Restaurant Furniture.net recently teamed up with Hamilton Oaks Winery in San Juan Capistrano, CA to provide them with new outdoor furniture.
Hamilton Oaks Winery was started in 1988 when Ron Tamez planted Cabernet Sauvignon vines on the hillside and produced his first wine in 1991. Ron Tamez made wine for friends and family for 12 years, drinking it and giving it away. In 2002 Hamilton Oaks became a commercial venue and has been producing award winning wines for 10 years.
Hamilton Oaks is opening a second wine tasting venue in San Juan Capistrano. They will be hosting weddings up to 400 people, birthday parties, rehearsal dinners and jazz concerts. They also have a location in Trabuco Canyon, California which open by appointment only.
The owner contacted Restaurant Furniture.net to buy new patio furniture. He chose Restaurant Furniture.net because of their reputation as a valued manufacturer of high quality commercial furniture and competitive prices.
For new seating, the owner decided to go with Beach House Outdoor Chairs in black finish. The patio chairs come with a netted back and seat. The finish is zinc plated with a powder coat finish. Anchors are weighed to the tube of the legs to reinforce stability. The Beach House Outdoor Chair sells for $45 on Restaurant Furniture.Net.
He also bought Square Outdoor Patio Tables. The table sets are also netted and include a hole in the center to accommodate patio umbrella poles, Like the Beach House Outdoor chairs, the table's finish is zinc plated with a powder coat finish. The square shaped table which includes legs has rolled pipe edges. The outdoor patio tables come in square and round shapes in various sizes. Prices for the Outdoor Patio Tables start at $80.
"The Beach House Outdoor Chair & Outdoor Patio Table were just what the owner wanted to complete the elegant look he wanted for his patio seating," said David M., salesperson for Restaurant Furniture.net. "It was also important for him to have a matching set to give him that cohesive look."
Browse Restaurant Furniture.net's full selection of commercial grade chairs, bar stools, table tops, table bases, booths and patio furniture at http://www.restaurantfurniture.net or talk to a customer service representative at (888) 409-1115.
Hamilton Oaks Winery is located at 29943 Camino Capistrano in San Juan Capistrano, CA. They can be contacted at: (949) 364-2063.