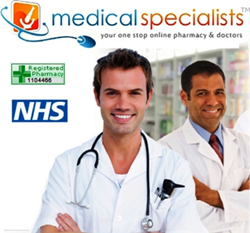 An estimated 15 to 20 million people in Britain are suffering with some type of allergy, and the number has skyrocketed four-fold in the last 20 years.
Bury, Manchester (PRWEB UK) 10 June 2014
An increasing number of patients are requiring hospital treatment due to allergic reactions, and health experts believe fast food diets could be connected.
Over the last three decades, there has been a gradual rise in the total number of both children and adults being admitted to hospitals for such problems, however the numbers have soared 8% in the last year alone.
An estimated 15 to 20 million people in Britain are suffering with some type of allergy, and the number has skyrocketed four-fold in the last 20 years.
New data released by the Health and Social Care Information Centre show a recorded 20,320 hospital admissions related to allergies in the previous 12 months. In 2011/12 there were 18,860, and a mere 16,923 only five years ago. So clearly the numbers are alarmingly only going in one direction.
The report stated that 62% (12,560) of the 20,320 admissions were deemed to be emergencies, meaning there has been a 6.2% increase from the same time period of the year before. Moreover, almost one in five (4,070) of the total admissions were for the treatment of anaphylactic reactions (also known as an anaphylactic shock, where the throat swells up) – up by 9.9% in the previous 12 months.
Hospital admissions for allergic rhinitis – including hay fever - went up by 10.9% in males and 13.3% in females from the 12 months prior, with more than 90% being non-emergency admissions. It is worrying to see significant increases across both sexes, for a relatively short period of time.
The exact causes of the allergic reactions wasn't specified in the figures, but typical allergies are usually for foods such as eggs, milk, nuts, as well as some medicines and insect venom.
According to some doctors, a jump in the occurrences of food allergies is most likely connected to the prevalence of the poor 'Westernised' diet of many countries, loaded with junk food, additives, and other preservatives that are bad for the body and result in allergic reactions.
In fact, they point to a clear parallel rise in these kind of allergies with the boom in popularity of junk food and ready meals, particularly noticeable in the last 30 years.
Interestingly (and perhaps unsurprisingly), the incidence of food allergies is far greater in developed nations battling an obesity crisis, such as the UK and the USA, in comparison to poorer countries that are consuming far less processed food products.
Commenting on the statistics in a statement, Maureen Jenkins, director of clinical services at Allergy UK, said: "These shocking statistics reflect the very worrying situation of the consequences of allergy-related diseases in the UK. It is not only the incidence of food allergy, anaphylaxis, rhinitis and eczema that is on the increase but also the severity of these conditions, including asthma, which still kills more than 1,000 people annually, most of which are preventable.
"The crippling cost to the NHS of these 20,320 hospital admissions – 12,560 of which were emergencies – could be saved if GPs and nurses were trained in recognising the symptoms of allergy and better treating the majority of these allergic patients, and referring the severe cases to specialist hospital care before they become emergencies."
Those who suffer with allergic rhinitis, i.e. hay fever (seasonal allergic rhinitis) can manage the problem in a number of different ways.

Avoiding allergens can sometimes be difficult for some, especially when it is something circulating in the air, such as pollen. However, by reducing your exposure to an allergen you know for sure, or suspect, is triggering your allergic rhinitis can lessen the occurrence of symptoms. People with hay fever should ideally try to remain indoors as much as possible during periods of high pollen counts and to check the latest pollen forecast with the Met Office. House dust mite and pets are problematic for many, and simply avoiding these can be hugely beneficial, whilst a nasal rinse can be used for people of all ages to effectively clean away the allergen.
Consider treatment to suppress the symptoms
With certain people, coming into contact with pollen, animal fur, house dust or an insect bite can cause their body to produce a chemical called histamine. This release of this chemical causes allergic symptoms which can include skin rashes, sneezing, watery eyes, runny nose and itching. Antihistamines such as Loratadine can prevent the effects of histamine and relieve the subsequent symptoms. Alternatively, prescription-only corticosteroid nasal sprays such as Nasonex can be beneficial for those suffering with either seasonal or perennial nasal allergy symptoms – particularly if a blocked nose is the main problem.
Immunotherapy, also known as hyposensitisation or desensitisation, is a type of treatment used in severe cases of certain types of allergies, such as hay fever. Differing drastically from other treatment options, with immunotherapy the allergen is slowly introduced into the body via injection in the upper arm or in tablet form so that the immune system can become less sensitive to it over time. The hope is that there will be a dosage reached that is effective in reducing the allergic reaction (known as the maintenance dose) and the injections or tablets will be required for up to three years thereafter.
When to see a GP
Medical Specialists™ Pharmacy advise anybody with the symptoms of allergic rhinitis severe enough that it is affecting sleep, the ability to perform daily tasks, or negatively impacting school or work life, to see a GP immediately.
The GP will assess the symptoms of the patient together with their medical history and that of their family's in order to make a diagnosis.
The patient will be asked if they have noticed symptoms flare-up at a particular place or time, and what they suspect to be triggering the symptoms. The GP will probably also inspect inside the patient's nose for the presence of nasal polyps. These are fleshy swellings that develop from the lining of the nose or the sinuses. Nasal polyps can be the result of allergic rhinitis.
If the GP is unsure of what is causing the allergic rhinitis, the patient will probably be sent for allergy testing, which can involve blood tests and skin prick tests for allergens, a patch test for a skin reaction and a food challenge (also known as an oral challenge) to accurately diagnose a food allergy.