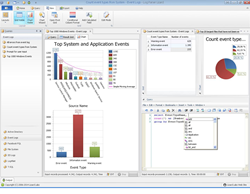 Log Parser is wonderful because it effectively lets you run SQL queries against text files seamlessly and efficiently without storing log data into database.
Skopje, Macedonia (PRWEB) July 09, 2014
This week, Lizard Labs, developer of professional system utilities and software for Microsoft Windows, released a significant update to its flagship software, Log Parser Lizard.
The user interface (GUI) is redesigned, a new code editor is introduced and support for Google BigQuery was implemented. If someone is using (or planning to use) Google's Big Data services (particularly BigQuery) to process their data or large log files, Log Parser Lizard GUI can be used to manage and run queries. With Google's servers doing all the big data heavy lifting, now he/she can use LPL to be able to fly through vast data sets with all the visualization options they're accustomed to in the software. This is one of the many new major features included in the latest version 4.0.
About Log Parser Lizard
We at Lizard Labs know first-hand how challenging it can be to dig through all text-based log files to find one item or issue. Because using Microsoft Logparser's from command line can be painful even for experienced IT administrators (due to its knotty command-line interface), we've created Log Parser Lizard to enhance the search functionality and to easily manage your queries.
This Log Parser Lizard GUI for Microsoft Logparser is a versatile tool that provides quick access to IIS, W3C and log4net logs, XML, CSV/TSV and Text files, as well as data sources on the Microsoft Windows operating system like Windows Event log, file system, registry and Active Directory. LPL digs through information in log files seamlessly and efficiently using SQL queries without storing log data into database. It offers an easy new way to manage all your business's text-based information. Now, businesses working with various forms of text based log files/data can use this query software to write and manage their queries and to find exactly what they need when they need it.
Streamlined, intuitive, and beautiful user interface leads to great user experience. The query editor has syntax highlighting and code auto-completion, code snippets, query constants, inline VB.NET code, and more. You can edit and save a new query in the query group as desired.
The results output in a default table view similar to Excel, but with more advanced features at your fingertips. Sorting, grouping, searching, filtering, conditional formatting, formula fields, column chooser, and split view. You can also consolidate the data into a chart for clearer readability using powerful Chart Wizard.
When it comes to data mining and multi-dimensional analysis, an advanced and feature complete pivot grid provides business users unrivaled insights into daily operations. Until version 3.0 using the pivot capabilities of products like Excel meant exporting data to "out-of-process" solutions.
Log Parser Lizard can print or export query results into various file formats including Microsoft Excel, HTML and PDF, as well as compile information into chart image. This query software is available for free from Lizard Labs, with an enhanced version with deeper functionality once it is registered and paid for.
Log Parser Lizard has consistently been awarded the highest accolades by leading software distribution sites and testing laboratories around the world. Users can download and try the latest version of Log Parser Lizard GUI at http://www.lizard-labs.com.
About Lizard Labs
Lizard Labs is a developer and provider of professional system utilities and software for Microsoft Windows. With products such as Log Parser Lizard, Lizard Labs is enhancing the way individuals and businesses research, organize and securely store business information. At Lizard Labs, we are fortunate enough to work with many important companies to help them with their professional system utilities needs. For more information on Lizard Labs and their software product offerings, visit http://www.lizard-labs.com.