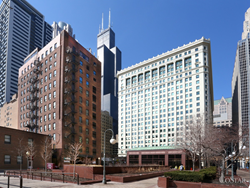 The new lease agreement allows Wolverine both cost savings and the opportunity to modify their existing conditions should the need arise in the future.
Chicago, IL (PRWEB) June 10, 2014
Leading financial services company, Wolverine Trading LLC and its affiliates, have extended their lease agreement at 175 West Jackson Blvd, totaling 87,978 square feet.
Robert Sevim, Executive Managing Director of global commercial real estate services firm, Savills Studley, co-brokered the transaction with David Stein of Steinco Inc., both representing Wolverine. Sean Murphy of JMIC Corp. represented the landlord.
According to Sevim, Wolverine has been a long term tenant at 175 West Jackson Blvd and the firm's operations continue to be successfully supported by the building's desirable location and the space that the firm occupies, which features large floor plates and uniquely tall ceilings, specifically on the second floor. "After evaluating Wolverine's position relative to occupancy cost, location and the amenities the building offers, it became very clear that planning for or executing a relocation strategy would not provide any benefit to Wolverine in terms of reducing cost, enhancing firm culture or being better situated geographically. The new lease agreement allows Wolverine both cost savings and the opportunity to modify their existing conditions should the need arise in the future."
Stein adds that this is the first sizeable transaction for the building since it was refinanced in late 2013.
About Wolverine
Founded in 1994, Wolverine is a diversified financial institution specializing in proprietary trading, asset management, order execution services, and technology solutions. The firm is recognized as a market leader in derivatives valuation, trading, and value-added order execution across global equity, options,
and futures markets. With a focus on innovation, achievement, and integrity, Wolverine takes pride in serving the interests of both its clients and workforce. Wolverine is headquartered in Chicago, with branch offices in New York, San Francisco, and London.
About Savills Studley
Savills Studley is the leading commercial real estate services firm specializing in tenant representation. Founded in 1954, the firm pioneered the conflict-free business model of representing only tenants in their commercial real estate transactions. Today, supported by high quality market research and in-depth analysis, Savills Studley provides strategic real estate solutions to organizations across all industries. The firm's comprehensive commercial real estate platform includes brokerage, project management, capital markets, consulting and corporate services. With 25 offices in the U.S. and a heritage of innovation, Savills Studley is well known for tenacious client advocacy and exceptional service.
The firm is part of London-headquartered Savills plc, the premier global real estate service provider with over 27,000 professionals and over 600 locations around the world. Savills plc is listed on the London Stock Exchange (SVS.L).
For more information, please visit http://www.savills-studley.com and follow us on Twitter @SavillsStudley and LinkedIn.