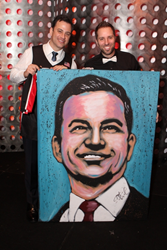 During the event Decker performed two live paintings, which were then auctioned, raising $15,000 for the Dave Rice Foundation.
Las Vegas, NV (PRWEB) June 10, 2014
Renowned speed painter Tim Decker (http://timdecker.com) recently performed at a charity event hosted by Late Night Host, Jimmy Kimmel. The event was held at the MGM Grand, Las Vegas and was a tremendous success for the Dave Rice Foundation.
"It was truly a fun experience," said Decker, a worldwide touring speed painter, who paints celebrity portraits on oversized canvases in a matter of minutes. "I love what I do and it was a blast to perform at this event hosted by Jimmy Kimmel."
During the event, Decker performed two live paintings, which were then auctioned, raising $15,000 for the Dave Rice Foundation.
After the performance pieces were auctioned, Jimmy Kimmel was brought back on stage where a portrait Decker pre-painted of him was unveiled and put up for auction. Kimmel joked that only a stalker would want his painting and continued to outbid himself until he eventually purchased the piece for $10,000.
Jimmy then gifted the painting to his Aunt Chippy, who is well known by fans of the Jimmy Kimmel Live Show.
In total, an astounding $25,000 was raised from the speed paintings, all of which will benefit the Dave Rice Foundation.
The Dave Rice Foundation is a non-profit, tax exempt organization dedicated to the education and support of health initiatives including developmental disorders such as Autism, and other charitable causes.
The Foundation was established in 2012 by UNLV Runnin Rebels Head Basketball Coach Dave Rice and his wife Mindy.
For more information, please visit: timdecker.com/charity-entertainment and timdecker.com/corporate-entertainment.
About Tim Decker
Tim grew up in Brodheadsville, a small town in Eastern Pennsylvania and studied Media Communications at East Stroudsburg University. Decker never expressed much interest in art, only taking two art classes to fill his college schedule with less demanding classes.
Then in 2009, Decker woke one morning after having a dream that would change the course of his life. Tim dreamed that he was speed painting on a beach boardwalk, though he had never heard of speed painting up until that point. He woke that morning, bought a gallon of paint, and painted his first portrait, none other than Mr. T. Thus began his journey.
###