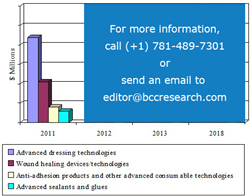 Global Market for Advanced Wound Management to Reach $11.3 Billion in 2018
Wellesley, Mass. (PRWEB) June 10, 2014
BCC Research (http://www.bccresearch.com) reveals in its new report, MARKETS FOR ADVANCED WOUND MANAGEMENT TECHNOLOGIES, the global market for advanced wound management is expected to grow to $11.3 billion by 2018, with a five-year compound annual growth rate (CAGR) of 5.6%. Growth in this market is significantly influenced by the aging and growing global population, as well as new technologies and increasing incidence of difficult-to-heal wounds.
Demand for advanced wound management options, as opposed to traditional therapies, is driven by faster healing benefits, improved outcomes, and reduced patient follow-ups. The advanced dressing technologies segment, which includes biological dressings, synthetic dressings and natural dressings, is the largest segment of the overall market and is expected to grow to $6 billion by 2018 at a 4.5% CAGR.
However, the wound healing device/technologies segment, which was valued at just $2.2 billion in 2013, is expected to jump to nearly $3.2 billion by 2018, registering a 7.6% CAGR. This market is continually experiencing rapid and significant technological changes and is often influenced by successfully developed and maintained licensing agreements.
"The wound healing device market has experienced slower growth over the past couple of years due to a reduction in hospital spending budgets and a hold on device and equipment purchases," says BCC Research pharmaceutical analyst Melissa Elder. "However, this is not an indication of a slowdown in the need for these devices. The market will likely experience some revived growth in the forecast period, largely due to a growing number of difficult-to-heal wounds and a rise in the elderly population. Prices for devices continue to decrease slightly with an increase in lease contracts over purchases."
Other trends that continue to shape this market include lifestyle and health issues, reimbursement issues, and military wound management.
MARKETS FOR ADVANCED WOUND MANAGEMENT TECHNOLOGIES provides an overview of the global markets for advanced wound care and related technologies. It includes analyses of global market trends, with data from 2012 and 2013, projections of CAGRs through 2018, and profiles of key companies in the industry.
Editors and reporters who wish to speak with the analyst, should contact Steven Cumming at steven.cumming(at)bccresearch(dot)com.
About BCC Research
BCC Research publishes market research reports that make organizations worldwide more profitable with intelligence that drives smart business decisions. These reports cover today's major industrial and technology sectors, including emerging markets. For more than 40 years we've helped customers identify new market opportunities with accurate and reliable data and insight, including market sizing, forecasting, industry overviews, and identification of significant trends and key competitors. We partner with analysts who are experts in specific areas of industry and technology, providing unbiased measurements and assessments of global markets. Our clients include the top companies in industries around the world as well as universities, business schools, start-ups, consulting firms and investment companies. BCC Research is a unit of Eli Research LLC. Visit our website at http://www.bccresearch.com. Contact us: (+1) 781-489-7301 (U.S. Eastern time), or email information(at)bccresearch(dot)com.
Data and analysis extracted from this press release must be accompanied by a statement identifying BCC Research LLC, 49-2 Walnut Park, Wellesley, MA 02481, Telephone: (+1) 781-489-7301; Email: editor(at)bccresearch(dot)com as the source and publisher. Thank you.