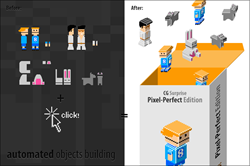 CG Surprise, the Photoshop extensions system, changes 1, 2 or 3 layers into 3D-looking objects automatically.
(PRWEB) June 11, 2014
The creator of the extension had a plethora of different goals that she wanted to tackle during the extension's development, one of the main ones being that the object created stayed... flat. "When the object is flat, people who possess the 2D skills required to edit it would have a much easier time, and the extension itself has been in the developmental process for well over a year," stated the developer. "The main purpose is to change 2D shapes into 3D-looking forms with one click of a mouse. The objects don't have to be real; sketches, vector shapes, text or a mix of photos can be used as well."
There are plenty of different features implemented within this extension, and there are two major modes that can be considered. The first would be the "Surprising" mode, which simply generates an object and material at random. "This is perfect for when you're looking for inspiration, and everybody is looking for inspiration at some point!" stated Joanna Ciesla. "The material patterns that are generated with this extension are interesting as well, as every single pattern is unique in its own right. There won't be a time where you see the exact same pattern as you did before, which is just another thing to add to the growing list of positive traits CG Surprise has to offer."
There are 3 different editions that CG Surprise is available in, those being:

Pixel-Perfect Edition (a pixel-art type style)
Smooth Edition (with Anti-Aliasing)
Vectors Edition
To put things in technical terms, the 3D objects that are built by CGS are actually known as projections, for example: Isometric, Oblique, Cavalier. These objects can't be rotated within a 3D space. "To get a different orientation you just have to run CGS again and pick a different orientation number. Each edition has six different types of orientations, so it's a lot of ground to cover." explains the developer.
For additional information on the news that is the subject of this release, contact Joanna Ciesla or visit cgsurprise.com.