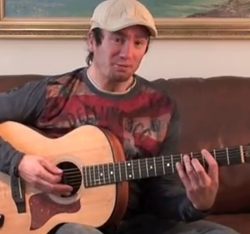 Today I am going to show you a neat little trick you can use when you practice.
(PRWEB) June 10, 2014
"Today I am going to show you a neat little trick you can use when you practice," says Darville, "this is going to combine the rhythm with the soloing, this is something that takes a while to master, but once you do master it you can keep going from now to Christmas with it". Jacques uses the riff from Hoochie Coochie Man, by Muddy Waters to demonstrate this concept. Darville demonstrates the riff for this as follows; slide into the 3rd fret of the 5th string with 2nd finger, 4th string open to 2nd fret with first finger, 3rd fret of the 5th string with 2nd finger and open 5th string, counted as 1 2 & 3 4. Each time after you play the riff Darville says you simple play a lick that takes up the same amount of time and then repeat the riff again and continue this process to work on various licks. Guitar TAB's are available for this easy blues guitar lesson at BluesGuitar.com.
McKinley Morganfield, aka Muddy Waters, was an American Blues musician from Rolling Fork Mississippi and is considered to be the father of Chicago Blues. He was inducted into the Blues Foundation Hall of Fame in 1980, The Rock and Roll Hall of Fame in 1987 and received Grammy Lifetime Achievement award in 1992. Waters died from heart failure in his sleep in 1983.
Jacques Darville
Jacques Darville is Danish born American who specializes in both acoustic and electric blues. Jacques has taught guitar and music for over 16 years. He is a graduate of Oakland University in Detroit Michigan where he earned his B.A. in music/performing arts. Jacques currently resides in Copenhagen Denmark where he teaches guitar to students of all ages, and actively plays with his band, Darville Duo. In addition to having a great deal of recording experience, Jacques has also toured in the USA, Denmark, Holland, Austria and the Philippines, both as a solo artist and with different bands.
About BluesGuitar.com
BluesGuitar.com is the leader in modern blues guitar instruction. It's packed with resources including articles, video lessons, and the best videos in the business for the beginner to the advanced guitar student taught by the best instructors out there.