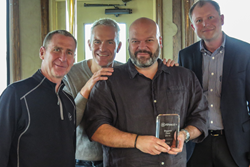 Ixxus has built a strong Alfresco-based offering for publishing and media that has attracted world-class customers.
Boston, MA (PRWEB UK) 11 June 2014
Ixxus, the leading global Alfresco partner and provider of digital publishing transformation services, announced today that the company has been awarded Alfresco Business Solution of the Year and US Deal of the Year at the 2014 Alfresco Partner Summit. Ixxus was chosen from amongst more than 150 Alfresco partners working across the globe, and was the only partner to win multiple awards in the United States.
"As one of Alfresco's earliest partners, Ixxus has built a strong Alfresco-based offering for publishing and media that has attracted world-class customers," said Alfresco CEO Doug Dennerline. The awards follow hot on the heels of Ixxus being named "Best Alfresco Solution Partner" in 2013, and celebrate the company's innovative digital publishing solutions.
Since partnering with Alfresco in 2007, Ixxus has achieved global success in implementing Alfresco solutions, and is now working with some of the largest publishers in the world to reinvent their content. Recent work includes building a global assets repository for Oxford University Press and designing end-to-end, custom content and editorial platforms for Pearson and Dorling Kindersley.
"Ixxus is delighted to be entrusted with some of the largest and most complex Alfresco implementations in the world," said Steve Odart, CEO and cofounder of Ixxus. "These awards not only demonstrate our accomplishments in this area, but are also testament to the skill and dedication of our team."
About Ixxus
Ixxus is a leading global provider of publishing solutions that reinvent the way organizations work with content to drive new revenues and enhance market agility. Ixxus has roots in both traditional and digital publishing, delivering award-winning, collaborative solutions that are uniquely tailored to customer needs.
Ixxus has expertise gained working with some of the world's biggest names in publishing and media, including Pearson, FOX, Penguin Random House, Bedford/St Martin's and Oxford University Press. The company is headquartered in London and Boston.
About Alfresco
Alfresco empowers teams to share, save and manage content on one platform across cloud, on-premise and mobile devices. More than 7 million people in over 180 countries use Alfresco to collaborate, process and power over 4 billion files worldwide. Whether on the go or in the office, Alfresco gives its customers a fast time to value in solving business challenges. Founded in 2005, Alfresco is headquartered in Maidenhead, outside of London with U.S. headquarters in San Mateo.