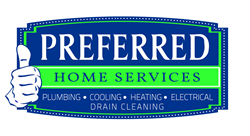 'We love our new website, and started receiving calls from the Request Service box immediately. We couldn't be happier with the results.' - Chris DiCampli, Owner
Charleston, SC (PRWEB) June 10, 2014
Preferred Home Services had long admired the reputation Tamsberg Plumbing and Mechanical had built within the Charleston community and surrounding areas. So, when they were looking to expand their plumbing, cooling, heating, and drain cleaning company, they knew right where to look. They bought the company, and with a quick new website, they were off and running. They soon realized, however, that to compete in a city like Charleston, they would need more than just a pretty website.
They employed the services of MarketingXchange, a digital marketing agency in Kansas City who specializes in lead generation for heating, cooling and plumbing companies. With their help, Preferred Home Services created a strong online marketing strategy complete with a search engine optimized responsive design website and a social media plan that drives traffic from all over the Internet back to their website.
To learn more about Preferred Home Services, visit http://www.gopreferred.com.