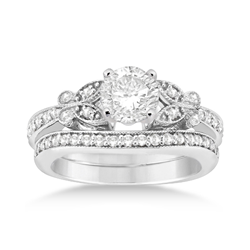 Nearly 70% of consumers under the age of 30 consider social issues before making large purchases.
New York, New York (PRWEB) June 11, 2014
The idea of understanding, and catering to, a target market is certainly not unique. In fact, it's safe to say that successful business models include an ample amount of data to support their demographic target, and have a plan for refocusing their offerings often, to keep pace with market changes.
For the jewelry industry, the times, they are a changing. The emergence of a younger demographic has meant major changes for those jewelry companies who wish to compete successfully. Now, the ideal jewelry customer is younger and driven by completely different selling features.
The younger jewelry consumer, and the younger target market in general, are very aware of the social, political and environmental impact of the products they use and enjoy. For the jewelry industry this means carefully choosing only those items that are made with conflict free diamonds, and are crafted using natural materials.
Studies show that those between that ages of 26-35 are more likely to purchase jewelry than any other segment of the population, and they spend more than two times the average amount spent when purchasing jewelry for gift-giving purposes.
In addition, this younger market is much more tech savvy, using the internet, mobile devises and other social media channels to choose jewelry. In fact a recent poll conducted by KPMG indicated that nearly 70% of consumers under the age of 30 "consider social issues" before deciding on their larger purchases.
Allurez, a leading online jewelry retailer and designer, is uniquely poised to satisfy the needs of their younger target audience. "We understand the needs of our younger customers and share their value system, choosing diamonds from those ethical sources that supply conflict-free diamonds. In addition, our jewelry is completed right here in the USA, supporting the economy of America."
Companies devoted to ethical practices are sure to benefit handsomely for their efforts, especially among those younger individuals who, for the first time, are truly in control of their own spending. Despite the fact that money may be tighter, these individuals are willing to spend a bit extra on an item known for its ethical responsibilities.
The Allurez spokesperson continued, "ethical practices are extremely important, and in tandem with that, styling, selection and perceived value are equally crucial. Successful jewelry companies must tailor their product offerings to include updated styles that are specifically targeted to their likes of their target market. For our younger consumers, features like designing your own engagement ring are a big pull. In addition, this particular market uses online sources for pricing comparisons and jewelry education. And, being a "me-centric" audience, truly personalized jewelry like monograms, initial necklaces and the like are also top choices for younger market who know what they want, and know how to get it."
About Allurez.com:
Operating as an innovative and robust retailer and designer of exceptional jewelry from the heart of NYC, Allurez is recognized for providing the largest selection of designer style jewelry for men and women including engagement rings, wedding bands, bracelets, necklaces, pendants, earrings, and certified loose diamonds. Designed using the finest metals and conflict-free diamonds and gemstones, Allurez provides custom made jewelry for customers seeking the finest jewelry available.
For additional information about any of Allurez products including all customized jewelry, please contact Allurez.com or call 1.800.554.3509 for details.
Sources:
March 2014: http://www.polygon.net/jwl/public/documents/resource-center/industry-reports/Retail%20Jewelry%20Industry%20in%20America_Report%202014-PDF-final.pdf