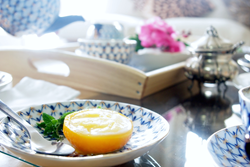 Bringing the Amalfi Coast to your next summer party.
New York City, New York (PRWEB) June 11, 2014
Once limited to a secluded corner of the Amalfi coast in Italy, the exceptional gelato filled fresh fruit desserts made by Divino are now available via next day shipping across all fifty states at divinodessert.com, and are sure to become a staple of weddings, dinner parties and luxury events alike. Just in time for Fourth of July celebrations, summer weddings and barbeques, entertainers and hosts can now treat their guests to the same dessert that graced the taste buds of Olympic athletes and became the talk of the event at the Nike VIP House for the duration of London's 2012 games.
Divino's Indulgenza single fruit collection are available in twelve unit cases of individually packaged fruits, which include spoons, in the divine flavors of Amalfi Lemon, Apulian Peach, Black Diamond Plum, Ciaculli Tangerine and Roman Kiwi desserts. The desserts are easy to store and serve, as they last up to eighteen months while frozen and simply need to be stored in a freezer before serving. Divino's gelato filled fresh fruit desserts plate beautifully, add color and texture to any place setting, and will wow guests all while bringing the flavor and intrigue of Italy's Amalfi coast to any event.
In celebration of, or as we like to say in Italian, per celebrare, the opening of our online store, Divino is happy to offer, for a limited time, our "Sei per Tre" promotion (3forfree code), in which customers who order three cases, receive an additional three cases at no additional cost. Italian culture dictates that if you love someone, you feed them in the best manner possible, and we here at Divino are extending that offer to our customers so that they in turn can do the same, and do so divinely.
The minimum order consists of one case of twelve individually wrapped fruits at a cost per case of $99 (inc tax) plus shipping. The cost of shipping is a flat $13 fee via UPS next day Ground and is variably priced via UPS next day Air. Divino conveniently ships in dry ice packaging and can be transferred to a freezer until serving. Orders can be placed directly through the online store at http://www.divinodessert.com.
About Divino:
Divino's innovative gelato desserts are a selection of award-winning sorbets and sweets made with the most perfect of Italian fruits. These mouthwatering delicacies are encased in their original fruit shells. The desserts are made with the finest Southern Italian fruits handpicked from the local groves surrounding the Amalfi Coast only when perfectly ripe. The fruits, bursting with goodness from the mineral rich soil, are then individually halved, the pulps blended and enhanced with local volcanic waters from neighbouring Mount Etna and Vesuvius, before their skins are filled with the decadent gelato filling. After flash freezing, Divino is crafted, bursting with Italian heritage, flavour and goodness.
The Divino brand has won taste and innovation awards at European fairs such as TuttoFood in Milan in 2011 and 2013, Specialty & Fine Food Fair 2013 and BBC Good Food Show 2013 in London, and SIAL 2012 in Paris.