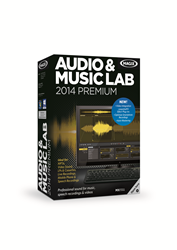 (PRWEB) June 10, 2014
NEW! MAGIX Audio & Music Lab 2014 Premium - a redesigned version of the Audio Cleaning series
MAGIX has extended the Audio Cleaning Lab product series with the release of MAGIX Audio & Music Lab 2014 Premium. The new, redesigned version of the successful MAGIX Audio Cleaning Lab software now provides ambitious users with even more options for digitizing, recording, editing and optimizing music, speech and videos.
With its wide range of functions and extras MAGIX Audio & Music Lab 2014 Premium is the Swiss Army Knife of the audio editing world. The extra visualization tools in the program make it easier to identify and edit volume or frequency problems in audio material. In addition to the spectroscope, peak meter and spectrogram, Audio Music Lab 2014 Premium also includes a bit meter, a correlation meter and a direction meter.
For the first time since its original launch the user interface in the Audio Cleaning series has been fully redesigned. The product series stands out from the crowd thanks to its optimized design which allows the user to adjust the interface to fit the screen, guaranteeing access to all of the buttons on the interface regardless of the monitor size.
Additional functions from the professional programs Samplitude® and Sequoia®:
In addition to the redesigned user interface, the Premium version also includes the same professional audio technology used in Samplitude® and Sequoia® to provide maximum quality and flexibility. Among other advantages, this technology makes it possible to edit studio projects with a resolution of up to 96 kHz/24-bit.
Another new addition is the five professional essential FX plug-ins from Samplitude® that allow users to optimize vocal recordings, apply chorus/flanger effects, remove noise and give recordings more punch.
Premium version users are now able to import and export videos, and optimize video sound. When playing imported film clips on a track the video monitor can be detached and resized, which means it is possible to work on two monitors simultaneously and check all of the added effects, optimized video sound and commentary down to the finest detail.
Premium Advantages:

Superior audio quality (up to 96 kHz/24-bit resolution)
All buttons and tools are visible no matter how the interface is resized
Precise preset settings
9 visualizations for detailed graphical analysis of audio material
5 essentialFX plug-ins
Video sound optimization
Resizable and detachable video preview monitor
More than 360 different presets for sound optimization
VST interface for additional audio plug-ins
Spectral editing
Edit multiple files or apply effects to several objects simultaneously using batch processing
Premium user interface with up to 2 audio tracks
MAGIX Audio & Music Lab 2014 Premium is now available in stores and online for £89.99.
NEW! MAGIX Audio Cleaning Lab 2014- Sound optimization made easy
The latest version of MAGIX Audio Cleaning Lab is now more intuitive which means that even audio editing beginners can find their way around the program. With just a few clicks audio material can be digitized, cut and optimized - it's so easy, anybody can do it!
Thanks to the touch-optimized user interface more advanced audio editing tasks can be performed easier than ever before. The wide range of professional presets in the program allow users to quickly get to grips with various aspects of audio editing - this is perfect for people with little or no experience. The new tools make sound optimization easier than ever before. For example. the Auto Mastering tool optimally adjusts sound settings depending on the music style - users can hear the difference after just three clicks!
The integrated browser also enables all kinds of files to be directly imported and exported from the program using mobile devices, removing the need for extra dialogs.
Highlights:

Optimize smartphone recordings
Auto Cleaning: Remove unwanted noise such as hissing, crackling and clicking etc.
Auto Mastering: Sound optimization with just a few clicks
Wide range of presets for sound optimization
Track markers for dividing long recordings
Automatic completion of album information
Volume normalization
Clipping reduction
Add sound effects or audio commentary
Share results on SoundCloud, YouTube, showfy etc.
MAGIX Audio Cleaning Lab 2014 is now available in stores and online for £39.99.
MAGIX Rescue Your Vinyl Tapes! 2014 - The complete package of software and hardware
MAGIX Rescue Your Vinyl & Tapes! 2014 can make your old music sound like new. The product bundle includes MAGIX Audio Cleaning Lab 2014, a premium USB pre-amp, adapter and cable. Easily digitize LPs, tape reels and cassettes, then use MAGIX Audio Cleaning Lab 2014 to remove noise, boost or suppress specific frequencies and adjust the volume. When the sound is just right burn it to CD or save it as an audio file.
The complete bundle includes:

Audio Cleaning Lab 2014
Premium USB preamp
Adapter
Cable
MAGIX Rescue Your Vinyl Tapes! 2014 is now available in stores and online for £69.99.
Editors Notes
Review Copies
Please contact: Nova Fisher, Tel +44 1442 351035 email: nfisher(at)magix(dot)net
About MAGIX:
MAGIX is a leading international provider of high-quality software, online services and digital contents for multimedia communications. Since 1993, MAGIX has been developing leading technologies for creation, editing, management and presentation of photos and graphics, videos and music. Internationally, MAGIX operates from branches in the USA, Canada, the UK, France, Italy, Spain and the Netherlands. The product range is targeted towards laymen and professionals alike and goes beyond the PC range to include seamlessly integrated online and mobile applications.
According to its retail sales figures, MAGIX leads in the multimedia software sector in Germany and the most important European markets, and is one of the most successful competitors in the USA. Fifteen years of market presence as well as one thousand awards worldwide testify to the company's power of innovation.
Music, photo, and video software from the market leader - MAGIX