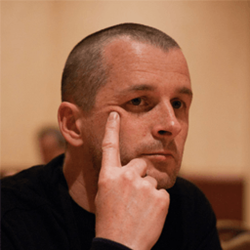 "I'll open up my personal notebook to share some of the advice that's helped me along the way." – Mark Boulton
(PRWEB) June 12, 2014
Mark Boulton, design director at Monotype, will present at the third annual Smashing Conference, a four-day event for professional Web designers and developers. During his talk, "My Handbook," Boulton will open up his personal notebook and share techniques and advice he's learned during his more than 15 years working in Web design. The presentation will take place on Tuesday, June 17, 2014, at 4:45 p.m. at The Times Center in New York City.
"Over the years, every designer picks up a ton of little tips and tricks from different projects and peers," said Boulton. "I'll open up my personal notebook to share tales of designing by committee, content mountains and what happened when I led a team of designers in India for a week."
Boulton will reveal everything from scraps of code and techniques for designing websites to ways of doing Web design and stories of how not to do it. During this presentation, he will share advice he's learned throughout his career and tips on how to succeed on the Web.
For more information on Boulton's presentation, visit http://smashingconf.com/.
About Monotype
Monotype is a leading global provider of typefaces, technology and expertise that enable the best user experience and ensure brand integrity. Based in Woburn, Mass., Monotype provides customers worldwide with typeface solutions for a broad range of creative applications and consumer devices. The company's libraries and e-commerce sites are home to many of the most widely used typefaces – including the Helvetica®, Frutiger and Univers® families – as well as the next generation of type designs. Further information is available at http://www.monotype.com.
Monotype, Helvetica and Frutiger are trademarks of Monotype Imaging Inc. registered in the U.S. Patent and Trademark Office and may be registered in certain jurisdictions. Univers is a trademark of Monotype GmbH registered in the U.S. Patent and Trademark Office and may be registered in certain jurisdictions. All other trademarks are the property of their respective owners. ©2014 Monotype Imaging Holdings Inc. All rights reserved.