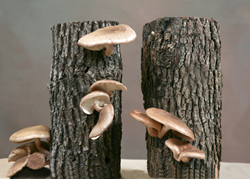 Two logs fruited together make more than double the mushrooms of one. It has to do with pheremones: "Fungi have more fun with friends!"
Perkins, OK (PRWEB) June 10, 2014
"Fun with Fungus" could be the theme for a Father's Day treat from Lost Creek Mushroom Farm, where shiitake mushrooms are the favorite "fruit." The hardwood logs are inoculated (seeded) by hand, watered with clean well water, and tended for 8-10 months. Each log is hand-picked for its readiness to fruit -- blooming with the world's number one gourmet mushroom. Watch the process
"For gardeners and mushroom lovers, a shiitake log kit is a fabulous Father's Day gift," according to Sandra Williams of Lost Creek Mushroom Farm. "The logs need only moderate care. Dad can watch the mushrooms emerge from tiny buds and bloom into full-size 'shrooms. And, as they mature, they make more and more mushrooms."
Logs grow indoors like plants or outdoors under shade. Williams, The Mushroom Lady, explained, "A single log should yield 6 crops a year. With two logs, alternating the fruiting logs can give Dad shiitakes every month. Or, when they're fruited together, they'll grow more than double the yield of one log. It has to do with pheromones. I like to say, 'Fungi have more fun with friends.'"
In the spring and fall, if the logs are placed outside in the shade, they make more and bigger mushrooms because these are their natural seasons.
"We grow them outside where they get rain and natural day-night cycles. They are very happy, healthy logs. And we guarantee that all our logs 9 inches long and larger will grow shiitakes."
Lost Creek Mushroom Farm kits are available in a range of sizes and prices. The Original Tray Kit with a 14-inch log and its own tray for soaking, fruiting and storing the log, is $49.95. The Best Buy includes two tray kits for $89.95 shipped to the same address. The best-selling 10-inch Single Log Kit is $29.95. A 6-7 inch 'Shroomie sells for $18. The Ma and Pa Log Kit with two 10-inch logs is $49.95. Prices include shipping and handling.
Kits include a ready-to-fruit log, instructions, recipes, and are guaranteed to grow shiitakes. 'Shroomies are not guaranteed because of shipping costs.
The value of Dad's Day shiitake kit increases with Janet Bratkovich's Shiitake Sampler Cookbook. It has 51 kitchen-tested shiitake recipes for $7.95 when shipped with the log kit, $9.95 shipped separately.
Order online at http://www.shiitakemushroomlog.com or by phone at 1-800-792-0053. Lost Creek Mushroom Log kits are available on Amazon.com at slightly higher prices.
A portion of sales are donated to Lost Creek Mushroom Farm's Mushrooms in Ghana Project. Sandra and her husband Doug work with small-scale mushroom farmers, especially women, to increase production and sales; and they and promote shiitake mushroom farming on logs.