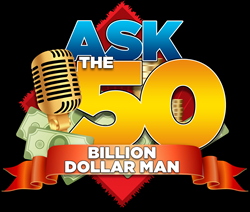 Conventional wisdom is almost always wrong.
London, England (PRWEB) June 18, 2014
Dan Peña, the most successful high-performance business coach in the world and founder and chairman of Quantum Leap Advantage (QLA) and The Guthrie Group, has launched his very own podcast aptly titled: Ask the 50 Billion Dollar Man.
Peña's incredible success included taking $820 in the 80's and turning it into an estimated $450 million which has an equivalent value of $1 billion today. Peña did all of this in 8 short years with his company Great Western Resources, Inc. (GWRI), an international natural resources company, in what was then a collapsing market while oil went from about $40 to $8 a barrel.
He retired in 1992, but had a vision to take what he had learned in the rough and tumble world of business and help create wealth for others. That vision led to the beginning of the QLA methodology that, to date, has countless followers.
Over the past 20 years Peña, with his QLA mentees and devotees, has created $50 billion in equity and value in various industries around the world with a majority taking only 4 to 8 years to achieve wealth creation. His QLA successes range from mentoring a pizza boy who now produces motion pictures, attaining this goal in only 6 years, to mentoring a middle manager in a Global Top 25 company to CEO in just 7 short years.
The idea for the podcast came about after a successful guesting on the UK-based London Real TV podcast. The incredible response and the questions that have poured in for Peña as a result has made it obvious that the best way for him to reach out to more people needing his help would be to start his own Q&A podcast.
Normally, only mentees that have signed up for Peña's exclusive, high-performance business seminars conducted in his 15th century Guthrie Castle in Scotland would have the privilege to ask him questions and get his straight-shooting, no-nonsense answers. But, with his Ask the 50 Billion Dollar Man podcasts, Peña will be bringing his wealth of knowledge and unique coaching style to a broader audience with the purpose of reaching out and helping more people achieve their biggest life goals.
Be warned, this is not for the faint of heart. Known for being tough and incredibly direct, Dan will mince no words when it comes to answering your questions about life in general or your business. He'll either tell you it will work, it won't work (and how to fix it) or whether to walk away—or as he known to say: "Sh*t-can it! Next!"
Ask the 50 Billion Dollar Man's podcast episodes can be downloaded in http://www.askthe50billiondollarman.com
###
Contact Information:
Kim Rogers
Guthrie Castle, Scotland
k.rogers(at)guthriecastle(dot)com
Phone: 011 44 1241 828 691