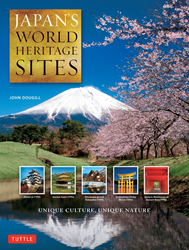 'John Dougill brings to this book an eye for telling detail and a skill in communicating the mood and essential character of Japan's World Heritage Sites.' — Suzanne Gay, Professor of East Asian Studies and History, Oberlin College
North Clarendon, VT (PRWEB) June 11, 2014
In Japan's World Heritage Sites, readers are introduced to the temples, gardens, castles and natural wonders for which Japan is so justly renowned—all of those now declared to be UNESCO World Heritage Sites. Author John Dougill describes each site in detail, stating why they were singled out by UNESCO, the current number and types of sites, the application process, how the sites have been selected, and how difficult it is to be given the special status of a World Heritage Site.
Dougill traveled to all of the sites in Japan to research this book, including:

Mount Fuji, Japan's tallest and most sacred volcano.
Himeji Castle, a monument from Japan's long feudal history.
Horu-ji Temple, the world's oldest surviving wooden structure
Hiroshima Peace Memorial or Atomic-Bomb Dome
The Ogasawara Islands, a remote archipelago of over 30 islands, including Iwo Jima
Readers will learn how Japan first became involved with the World Heritage Sites program back in 1993, the importance of these designations, and their popularity in Japan and abroad today, where they are visited by millions of people annually, both Japanese and foreigners.
About the Author
John Dougill is a professor at Ryukoku University in Kyoto. He has authored over a dozen Japanese college textbooks as well as Kyoto: A Cultural Guide and In Search of Japan's Hidden Christians. Find him at greenshinto.com.
About Tuttle Publishing
Established in 1948 by Charles Egbert Tuttle Jr. in Rutland, Vermont and Tokyo, Japan, Tuttle Publishing is the premier publisher of English language books on Asian culture. Today, Tuttle maintains an active offering of books on a wide range of topics, including Asian culture, Asian literature, Asian architecture, Eastern spirituality, gardening, cooking, martial arts, crafts, travel, health and wellness, and fine art for a worldwide audience. For more information, visit http://tuttlepublishing.com.