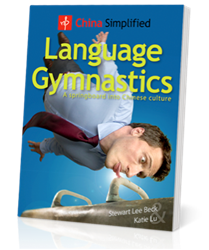 One time I meant to say, 'We used to be classmates' and what they heard was, 'We used to sleep together.'
Chicago, IL (PRWEB) June 13, 2014
We have all had communication faux pas. Especially when communicating in a language other than our native tongue. This happened to Stewart Lee Beck, co-author of the new book China Simplified: Language Gymnastics. "I've misused the four tones of Mandarin many times and had plenty of embarrassing moments," said Beck. "One time I meant to say, 'We used to be classmates' and what they heard was, 'We used to sleep together.'" Thankfully Stew found a highly accomplished Chinese teacher and friend in Katie Lu. Together they have written a new book that will unravel the mysteries and magic of the Chinese language for you along with its impact on local and world culture.
China and the USA are nations heavily dependent on each other for mutual success. Yet many people in the USA find China, its people and language, a complete mystery. Learning the language for most is completely daunting. But it doesn't have to be. Beck and Lu have written a fast-paced, entertaining and insightful book. The authors refer to their mission as "untangling the noodles" for you. When asked, "Can you learn Mandarin by reading this book?" their reply is "You might, but don't blame us." The book is really about simplifying and distilling culture. Why the focus on language? As the world's pre-eminent spokesperson Nelson Mandela once said, "Talk to a man in a language he understands, that goes to his head. Talk to him in his own language, that goes to his heart."
This book is perfect for anyone with even a passing interest in China. By no means is it a dumbing down, rather it's a delightful speeding up of a subject that everyone should know something about. An easy read, cover to cover in around three hours, it's the ideal preparation for your next business meeting in China, when coming on holiday, or for encounters with Chinese in your home city. Even diehard "Old China hands" will enjoy it.
"Many of our Western friends are curious about China, yet somehow, that curiosity has not translated into a better understanding of this remarkable culture and its countless stories," said author Stewart Lee Beck. "That's what got us started on this project, sharing some of the many fascinating stories behind the evolution of Chinese as a window into the country and its people."
About China Simplified
China Simplified: Language Gymnastics is the first in a series of books exploring the language, history and more in quick–read, illustrated, engaging formats making the country and culture super–accessible for a busy world. See http://www.chinasimplified.com/csl-us for more info.
China Simplified: Language Gymnastics is available now in eBook (Amazon, iBooks, Barnes& Noble, Smashwords, Scribd) and in audiobook (Audible, iTunes). China Simplified is running a special "Play it Forward" promotion through the end of June offering a free audiobook to e-book readers plus a friend of their choice. Visit http://www.chinasimplified.com/csl-us for details.