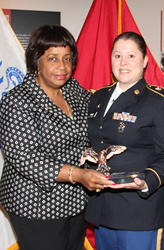 Newark, NJ (PRWEB) June 10, 2014
Horizon Blue Cross Blue Shield of New Jersey has been decorated by the U.S. Secretary of Defense with the Pro Patria Award, an honor given to select employers that demonstrate the greatest support to their workers who also serve in the National Guard or Military Reserve. The award was presented to Horizon BCBSNJ during a special ceremony June 5 at the Vietnam Veterans Museum, in Holmdel.
The Pro Patria Award is presented annually by the Employer Support of the Guard and Reserve (ESGR), a U.S Department of Defense office. An ESGR Committee in each state selects one small, one large and one public sector employer in their state or territory for this annual honor, which is the highest level award that can be bestowed by an ESGR Committee. The award salutes employers that have demonstrated the greatest support to Guard and Reserve employees through their leadership and practices, including adopting personnel policies that make it easier for employees to participate in the National Guard and Reserves.
"Horizon is honored to have been singled out among our large company peers across the state for the distinguished Pro Patria Award," said Alison Banks-Moore, Chief Diversity Officer for Horizon BCBSNJ. "Horizon proudly supports employees who volunteer to serve our county as a volunteer in the National Guard or U.S. Military Reserves."
As a New Jersey winner of this award, Horizon BCBSNJ has been nominated, along with 54 other large companies, for another Defense Department honor -- the Secretary of Defense Employer Freedom Award. The winners of this national award are expected to be selected and announced later this month.
About Horizon BCBSNJ's Diversity programs
Horizon BCBSNJ has instituted many programs aimed at promoting diversity within the company including: paid minority internships and manager development programs, as well as a Diversity Council and minority leadership programs. To learn more about Horizon BCBSNJ and its diversity efforts, visit: http://www.HorizonBlue.com/diversity
About Horizon Blue Cross Blue Shield of New Jersey
Horizon Blue Cross Blue Shield of New Jersey, the state's oldest and largest health insurer, is a tax-paying, not-for-profit health services corporation, providing a wide array of medical, dental, and prescription insurance products and services. Horizon BCBSNJ is an independent licensee of the Blue Cross and Blue Shield Association, serving 3.7 million members with headquarters in Newark and offices in Wall, Mt. Laurel, and West Trenton. Learn more at http://www.HorizonBlue.com.
About ESGR
Employer Support of the Guard and Reserve is a Department of Defense office established in 1972 to develop and maintain employer support for Guard and Reserve service. ESGR advocates relevant initiatives, recognizes outstanding support, increases awareness of applicable laws, and resolves conflict between service members and employers. Paramount to ESGR's mission is encouraging the employment of Guardsmen and Reservists who bring integrity, global perspective and proven leadership to the civilian workforce. More information about ESGR Employer Outreach is available at http://www.ESGR.mil
###