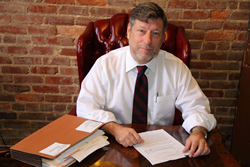 Atlanta, Georgia (PRWEB) June 16, 2014
Hundreds of parenting and family law experts descended upon the city of Toronto at the recently held Association of Family and Conciliation Courts (AFCC) annual conference May 28 through May 31. Michael and Shelia Manely, with The Manely Firm, P.C. were the sole legal representatives from the State of Georgia presenting to this group of legal professionals from as far as England and Australia to as close as Florida and North Carolina.
The AFCC is an international organization of professionals dedicated to improving the lives of children and families through the resolution of family conflict. According to their website, this annual conference is an interdisciplinary program featuring leading legal, mental health and dispute resolution practitioners, policymakers and researchers. This year's event will be the organizations 51st.
Said AFCC President Nancy Ver Steegh, "The conference (examined) some of the latest innovative work on shared parenting and offer sessions on a variety of complex questions…(as well as) stimulating discussion…among leading family law judges, lawyers, mediators…and other professionals."
"We were honored to be among the presenters at the AFCC conference this year," reported Michael Manely. "The AFCC's goals are in close alignment with both The Manely Firm, P.C. and The Manely Firm, P.C.'s Justice Café. We had the opportunity to introduce attendees to the Justice Café model and the services we provide in bridging the gap between families and affordable access to justice."
Michael Manely, who did not realize that he was the only Family Law attorney in Georgia to present, was not surprised. "It is exciting to be at the forefront of family law reform and to be able to share the value of providing legal services in an affordable model. Our communities need it and we are proud to provide it."
Metro-Atlanta attorney family law attorney Michael Manely began practice in 1989 and established The Manely Firm, P.C., in 2003 with the goal of providing highly effective legal advice and representation to families struggling with complicated family law matters. Since hanging his own shingle in 1990, Michael Manely has developed a leading family law firm with multiple office locations throughout Georgia and, in 2011, launched The Manely Firm, P.C.'s Justice Café. Mr. Manely is recognized as the only attorney in the country practicing all family law to win unanimously both before the United States Supreme Court (Chafin v. Chafin; 11-15355-CC) and a State Supreme Court (Georgia, McDermott v. McDermott; 2011CV199099)