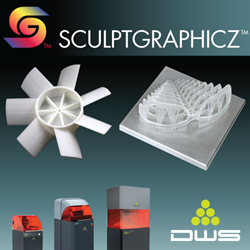 Smart 3D Print Solutions
(PRWEB) June 11, 2014
Sculptgraphicz, Inc. is pleased to announce that they have been appointed as a national reseller of DWS Systems X line.
Marvin Seligman, President of Sculptgraphicz, said: "DWS Systems provides extraordinary solutions for Rapid Prototyping and Additive Manufacturing. DWS Systems Innovative 3D printers make amazing models and parts straight out of the machine."
Digital Wax Systems, was founded in 2007 in Vicenza Italy, having evolved from a firm with many years of experience building prototypes. Steeped in the values of its community and dedicated to perfecting their craft DWS has emerged as a world leader in stereolithography. It has set new standards in the Jewelry Industry, where it has been used for many years. DWS Systems is used in over 60 countries.
These features set DWS Systems apart from all other 3D Printing, Rapid Prototyping and Additive Manufacturing Technologies:

Surface Quality – Unparalleled injection-molded like surface quality straight off the machine.
Efficiency – resulting in little to no material waste, where other processes material waste ranges from 20%-50% or higher.
Reliability – minimized moving parts, sealed solid state BluEdge® Laser – these machines are true workhorses.
Range of Materials – Including: PP-like, ABS-like, casting, flexible (rubber like), high temperature, ceramic (biocompatible) resins. DWS Systems develops their own materials and delivers consistency from batch to batch.
Sculptgraphicz, Inc. based in NYC, is also a 3D printer reseller, service and support provider of Mcor Technologies Ltd, an innovative manufacturer of the world's most affordable, eco-friendly and full color 3D printers. They are the only 3D printers to use ordinary business letter paper as build material, a choice that renders durable, stable and tactile models.
Sculptgraphicz, Connecting Smart 3D Print Technologies to Smart Users
What Can We Do For You?