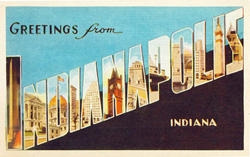 Adding Indianapolis to the Aim Solutions footprint significantly improves delivery time and service to customers while reducing transportation costs
Nashville, TN (PRWEB) June 12, 2014
Aim Solutions, a Nashville based supply chain management and 3PL provider, opened its fifth facility located in Indianapolis, IN on April 1, 2014. The new building located at 7941 Allison Avenue will provide packaging, assembly, and fulfillment services for HarperCollins and HarperCollins Christian Publishing as well as Aim's Midwest and East Coast customer base. The facility is expected to be fully staffed by the end of June 2014.
Aim Solutions currently has offices and warehouses in Nashville, Las Vegas, St Louis, and Hong Kong and works with companies such as Bridgestone Americas, Cox Communications, Paddywax, Dr Browns, Metro Nashville, The Dave Ramsey Group. Aim Solutions provides domestic and international contract manufacturing, printing and packaging, 3PL and warehouse services. With the addition of a fifth facility, Aim Solutions significantly improves delivery time and service to customers, while reducing transportation costs.
In a statement regarding the addition of an Indianapolis location, Jim Oliver, President of Aim Solutions remarked:
"We are extremely pleased to add Indianapolis to our footprint. The supply chain and 3PL landscape is extremely competitive and by adding an additional location, we will be able to not only better serve the Midwest market, but it will give our customers an additional inventory location to leverage when expediting B2B and B2C shipments."
The expansion plan was initiated in Q3 2013 after contract negotiations with HarperCollins Christian Publishing began. An agreement was penned with the publisher in Q1 and the additional location was launched in April 2014.